Namport donates temporary shelter for the Walvis Bay COVID-19 Checkpoint
Posted: 26 Jun 2020
The Namibian Ports Authority through its Social Investment Fund, recently donated a mobile office to the Navy Commander of the Namibian Police in the Erongo region. The office is intended to be used by the men and women in uniform manning the Walvis Bay COVID-19 Checkpoint. The need arose due to the fact that the staff members deployed at the checkpoint were being exposed to unfriendly weather elements which hampered their performance.
The donation, which comes at a time where the Erongo region continues to record an increase in the number of positive cases related to the COVID-19 virus will ensure that the law enforcers are able to dedicate their attention to executing their duties unhindered at the checkpoint.
The checkpoint became operational on 05 May 2020 when the Temporary Isolation Truck port facility was officially opened in collaboration with various stakeholders.
The donation is valued at N$50,000.00 which will be used to pay the rental fee of the mobile office for the next 6 months subject to future renewals.
The Authority has since the beginning of the outbreak in March 2020 spent over N$400,000.00 towards the fight against the COVID-19 pandemic. Its previous donations were towards the residents of the Twaloloka Informal Settlement in Kuisebmond by providing them with twenty (20) mobile toilets, medical equipment and supplies to the COVID-19 Isolation Facility at the Walvis Bay State Hospital, hand sanitisers and high risk gloves, plus 240 branded water bottles. In the same disposition, Namport made a monetary donation towards the Walvis Bay Corridor Group Wellness team to purchase gloves and thermal guns which would be used at border posts against the fight of the COVID-19 pandemic. Finally, the entity also made a donation towards the Keetmanshoop Police in the ||Karas region.
The Namibian Ports Authority continues to closely monitor the requirements throughout the progression of the pandemic and within its means, and has pledged to do its best in continuing to contribute towards the national efforts to cushion the impact of the outbreak.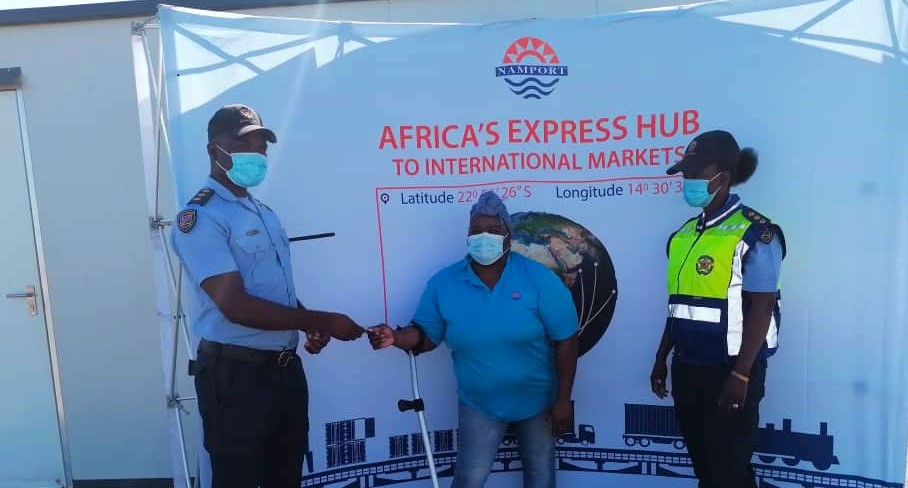 ---