Turkish delegation explores business opportunities in Namibia
Posted: 4 Jun 2018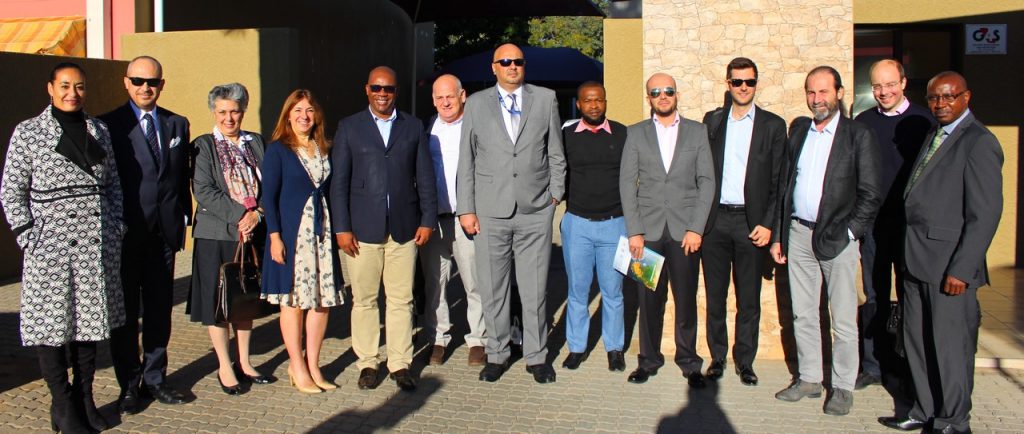 As part of their business expedition to explore investment opportunities, the Turkish business delegation that arrived in Namibia this week, visited the Walvis Bay Corridor Group (WBCG) on 30 May 2018.
The delegation, headed by the Turkish Ambassador H.E. Berin Tulun, was given an overview of Namibia's Logistics Hub initiative and its significant potential for boosting trade into the southern Africa region. WBCG's Spatial Development Initiative (SDI) Manager, Gilbert Boois further detailed the current developments along the corridors and at Namibia's Ports, highlighting investment opportunities in the sector. "The group was impressed with the provision of land to neighbouring countries at the Port of Walvis Bay to establish dry ports", says Mr. Boois, adding that Turkey is a shining example of a transitioning country that has successfully integrated with the world economy based on the anchor provided by trade relations with Europe.
According to Bloomberg, Turkey alongside Mexico, is measured as the most attractive emerging market for 2018. "The prospect that Namibia has the opportunity to engage with this country which is known for its dynamic private sector, is of great benefit to our business sector ", Mr. Boois adds.
The delegation is exploring business opportunities in the areas of agriculture, mining, renewable energy, transport and logistics, tourism, construction, meat and meat products, food products, cold storage, education, health and health tourism, transportation vehicles and infrastructure. The group had business-matchmaking engagements with entrepreneurs and also visited the port and fishing industries at the coast.
This visit came about as a result of the Memorandum of Understanding (MOU) signed between the two countries in 2016 during the Invest in Namibia Conference on 09 November 2016. "Established within the framework of the MOU, a Turkey-Namibia Business Council was established to identify opportunities for collaboration and take measures to promote development in the industrial and technology sectors of both countries for mutual benefit", Mr. Boois explains.
Additionally, the Business Council will promote trade and cross-border investment opportunities between the two countries and support collaborative ventures between Namibian and Turkish companies.
The Business Council consists of the Namibia Ministry of Industrialisation, Trade and SME Development, the Ministry of International Relations and Cooperation, the Namibia Chamber of Commerce and Industry, WBCG, the Turkish Ministry of Foreign Affairs and the Foreign Economic Relations Board. Gilbert Boois represents WBCG on the Business Council.
"Turkey has established business councils with 33 African countries to date. This is a clear indication of the country's purpose to develop trade relations with the country," says Mr. Boois.
For more information on the Turkey-Namibia Business Council, contact the Namibia Investment Centre (NIC).
---