Rail link planned for Namibia – Zambia corridor
Posted: 17 Jul 2019
Great emphasis has been placed on the enhancement of infrastructure to link Namibia with the region politically, socially and economically. The vision of developing Namibia into a regional transport turntable for the Southern Africa Development Community has led to significant investment in upgrading our transport infrastructure to meet international standards.
The Namibian Government has made great strides towards developing our ports and roadways, in particular the Port of Walvis Bay. Today, we are proud to say that we have made good progress on the development of the new port terminal, which is nearing completion. Ready to commence business in August this year. A bigger facility to cater to the region's needs.
As it is crucial to balance the movement of cargo between road and rail, the upgrade and expansion of rail infrastructure is furthermore envisaged for this regional corridor. A key strategic project is the railway line between Namibia and Zambia, via the Zambezi region.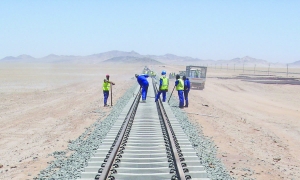 Zambia is investing in the expansion of their railway system network, that includes the 200 km Livingstone – Kazungula – Sesheke rail project, and the 800 km Solwezi – Kaoma – Sesheke western rail project to link Zambia and Namibia up to the port of Walvis Bay. This initiative is a deliberate government policy to link the new mines and mining activities that are not already connected to the railway grid and network along the Walvis Bay-Ndola-Lubumbashi Development Corridor. Considering the heavy burden of costs, the Zambian Government is encouraging more Public private partnership (PPP) initiatives for the construction of the planned new railway lines based on reasonable feasibility studies.
On the Namibian side, plans for the 767km Grootfontein – Rundu – Katima Mulilo railway line is already in motion, with the commencement of the feasibility study slated for later this year.
Following the realisation of this major infrastructural development linking Namibia to Zambia, the increase of trans Atlantic trade via this corridor is assured.
---