DAAD'S contribution to industry assessed
Posted: 17 Jul 2019
We were privileged to recently engage the visiting team from the German Academic Exchange Service, DAAD, accompanied by the Director of the Namibian-German Centre for Logistics (NGCL), Mr Logan Fransman. The team are assessing the impact their support towards various Centres of Excellence in Africa. The assessment in Namibia pertains to the relevance and impact of the academic programme offered by NGCL to the Namibian Logistics Industry.
One of the topics under discussion was how to assist NGCL students to get taken up into the industry for their required 3-month work experience, as students find it difficult to complete the learning experience due to the limited amount of internship programmes available in the industry.
NGCL was established as a higher education centre of excellence focussing on Logistics, through DAAD's African Excellence programme in May 2009. DAAD is an organisation of institutions of higher education and student bodies in the Federal Republic of Germany that provides higher education degree courses abroad. The Namibian Logistics Centre is the only one of its kind in the DAAD programme on the African continent, and has seen 39 Masters of Logistics and Supply Chain students graduate to date.
As a partner, the WBCG and its members have assisted in developing an industry based curriculum that is relevant to our market. In turn, the NGCL team and students have assisted WBCG to conduct various studies and surveys needed under the Logistics Hub project. Sharing our gratitude to DAAD for their contribution to increasing the academic expertise in Namibia's logistics industry, WBCG's Mr. Gilbert Boois said that we look forward to continuing this mutually beneficial partnership with the NGCL and DAAD.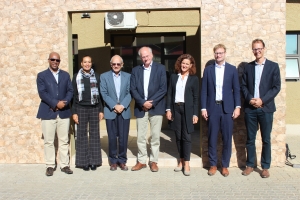 ---