TransNamib assists to create decentralized logistics centres
Posted: 23 Jul 2019
"We are in the business of moving cargo via rail from station to station," explained TransNamib CEO, Mr. Johny Smith at the Walvis Bay Corridor Group's stakeholder engagement session held in Grootfontein earlier this month.
Mr. Smith detailed the company's new strategy that aims to unlock their property value in order to create a good return on Investment for the rail operator. TransNamib is availing the warehousing facilities located at their stations countrywide and offering it to private sector logistics companies to operate as logistics centres.
The session hosted in Namibia's north central region, gathered logistics companies from across the country to present them with the opportunity. The move by TransNamib, falls in line with Namibia's Logistics Hub Master plan, which specifies the creation of decentralised logistics centres across the country. This ensures that Namibia as a country becomes a logistics hub and not only the coastal and central regions.
With Africa's move to improve on its intra-continental trade, it is crucial to develop Namibia's cross border rail links with its neighbours. Namibia's cross border rail services needs to be improved upon. The country currently only has one corridor with a cross border rail connection, the Trans Oranje corridor which links Lüderitz to the northern cape of South Africa. "This line has been dormant for 18 years," says Mr. Smith. TransNamib has recently employed 100 new employees to revive operations on this line. The commodity best suited for this corridor is the manganese mined in the Cape which could see more than three million tonness moved annually on this corridor. A project team, comprising of the WBCG, TransNamib, Namport and Trade Port, is currently developing the roll out plan, which will see an incremental increase of manganese transported by rail until it reaches 90 000 tonnes per month.
Further development of the other rail connections to the neighbouring countries planned includes the Trans Kalahari corridor and Walvis Bay-Ndola-Lubumbashi development corridor. The Trans Kalahari Railway (TKR) line currently line stops at Gobabis. The collaboration between the Governments of Namibia and Botswana has seen the completion of the feasibility study for this line. The project office has been established in Windhoek and funding for this project needs to be secured to build the line. The rail link to Zambia stops in Grootfontein. The Government, with the assistance of NEPAD, have scheduled the feasibility study to commence later this year. The Trans Cunene railway line is complete up to the border in Oshikango and now waits for Angola to build their section of the line into the country.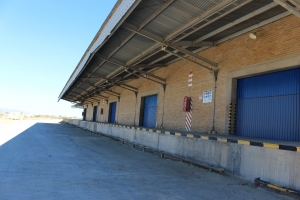 ---