Namibian-Botswana rail line back on track
Posted: 24 Sep 2019
"I have no doubt that our meeting today will further motivate the process of progressively, but practically implementing the March 2014 agreement", said Hon. John Mutorwa in his opening statement during the Joint Ministerial Committee (JMC) meeting on the Trans-Kalahari Railway Line, Coal Terminal and Associated Facilities held in Gaborone earlier this month.
The March 2014 agreement, which refers to the Bilateral Agreement signed between Namibia and Botswana, followed the Memorandum of Understanding signed in July 2010 on the development of the Trans-Kalahari Rail Project.
The meeting sought to address critical areas identified at an earlier meeting this year: the commissioning of the Trans-Kalahari Railway Project Management Office and the full operation thereof, through the joint management of the two project coordinators – Namibia and Botswana to fully realise the Namibia – Botswana Rail Line.
Accompanied by the Walvis Bay Corridor Group, TransNamib and the Namibian Ports Authority, the Minister of Works and Transport met with his Botswana counterpart, Minister of Transport and Communications, Hon. Dorcas Makgato who reiterated the importance of this agreement to come into full effect.
"Apart from the existing road network that Botswana has with her neighbours, the country only has one railway line connecting her to South Africa in the south and Zimbabwe in the northeast. This scenario needs to change and this project and other developments will enhance trade facilitation in the SADC Region".
According to the Botswana Minister, the project is expected to provide improved distribution of regional traffic among corridors in Southern Africa, increased regional integration and international cooperation.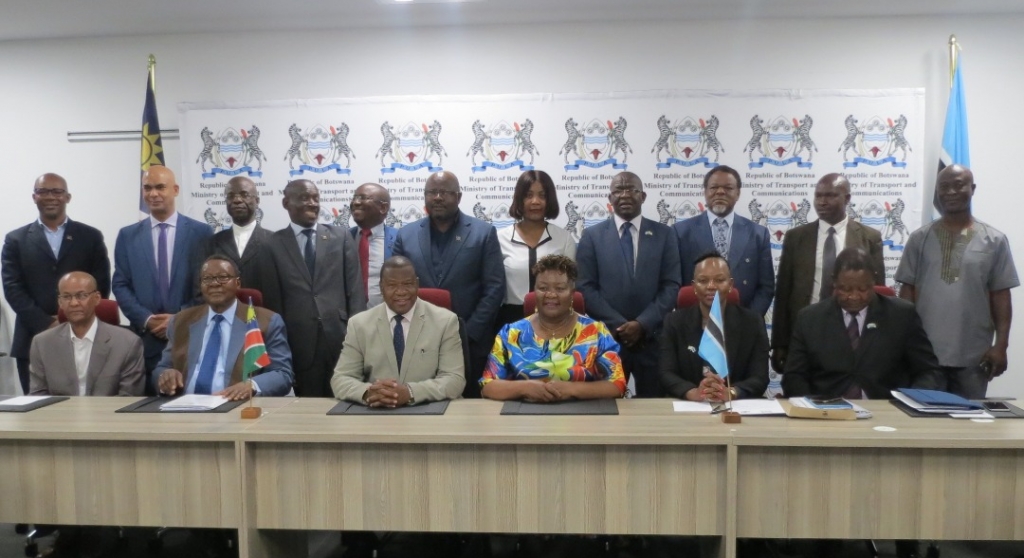 ---