WBCG assists with emergency delivery of baby at Oshikango border
Posted: 2 Nov 2019
OSHIKANGO — Nurses from the Walvis Bay Corridor Group's Wellness Clinic in Oshikango rushed to assist a mother who was giving birth to a baby at the Oshikango border post on the morning of Friday, 18 October. The team reacted to the emergency, after they were summoned by the border police and arrived just in time to 'catch' the baby and cut the umbilical cord.
The mother, Ms. Angelina Benquela (35), was en route to Engela hospital, when she felt the contractions. The mother was just crossing at the border into Namibia when the baby decided it was time to meet the world. On arrival, WBCG nurses Sr. Ester Shikomba and Sr. Wilma Nanghanda quickly assisted with the final birth before moving them to the WBCG clinic for a thorough check. The Ministry of Health and Social Services was then contacted to transport the patients to the nearest hospital in Engela. Ms. Benquela and her 2,083kg baby girl were both stable and healthy and grateful to the nurses who helped bring her baby girl into the world.
The Regional Health Director from the Ministry of Health and Social Services, Mr. John Hango praised the WBCG clinic team for their quick response to this emergency. He added that their presence in the community adds significant value as it provides access to emergency medical attention, such as is in this case. WBCG's Site Coordinator at the clinic, Ms. Secilia Gotlieb shared that they were pleased that they were able to help and support the mother and the baby.
WBCG Wellness Project Manager, Mr. Edward Shivute applauded his team on a job well done. "Our Nurses took control of the situation and in the process rescued a potentially fatal situation. They went the extra mile to assist, despite having to deal with their normal interventions of providing HIV/AIDS related services to the community". He says this is once again testimony of an excellent relationship between WBCG and the Ministry of Health and Social Services. "We will continue to extend a helping hand to the Ministry by serving clients who might find it difficult to access public facility health services".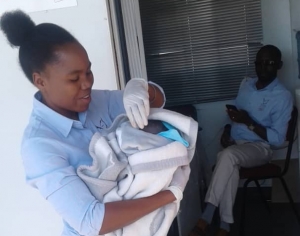 ---