WBCG welcomes Ilona Nkandi as newest board member
Posted: 2 Nov 2019
WBCG welcomes Ilona Nkandi as newest board member
The Walvis Bay Corridor Group (WBCG) recently welcomed Ms. Ilona Nkandi as its newest member to the Board of Directors. Citing her expert knowledge on trade and industrial development related matters as her contribution to the strategic decisions and governance of WBCG, Ms. Nkandi is ready to pursue her new position with vigour.
"Being a part of the WBCG board allows for the opportunity to articulate the importance of Namibia's corridors and its contribution to the economic growth, which is in line with the country's Industrial Policy and Growth at Home Strategy and Trade regime", says Ms. Nkandi
As Deputy Director responsible for Industrial Policy, Planning and Development within the Ministry of Industrialisation, Trade and SME Development, Ms. Nkandi brings with her substantial experience in economic research and analysis, innovation and policy formulation. "I was priviledged to have worked on the design and formulation of Namibia's Development Plans 4 and 5, Namibia's Industrial Policy, Growth at Home Execution Strategy, the Harambee Prosperity Plan, Micro, Small and Medium Enterprises Policy; the SADC Industrialisation, Strategy and Roadmap and the 10 sectorial strategies currently being implemented by the Ministry with assistance from the Deutsche Gesellschaft für Internationale Zusammenarbeit (GIZ)", says Ms. Nkandi. The new Board Director additionally has a proficiency in investment appraisal and financial modeling and deal structuring.
Apart from serving on WBCG's Board of Directors, Ms. Nkandi serves as a Director on the Development Brigade Corporation and is on the Advisory Board for the Master Degree of Logistics and Supply Chain at the Namibia University of Science and Technology (NUST). She also offers her expertise, on a part-time basis, to the Namibia Business School for the Post Graduate Diploma in Business Administration and the MBA Strategy.
Ms. Nkandi holds a Master of Economics majoring in International Finance (Cum Laude) from the Shanghai University of Finance and Economics, a Bachelor of Accounting from the University of Namibia, Management Development Programme and various Certificates in Industrial Policy, Value Chain Analysis and Economic research. She is also currently pursuing her Doctorate in Business Administration.
According to her, in order to ready itself to be SADC's newest logistics hub, Namibia must ensure it is innovative in its entire approach. "Namibia should employ rapid technological change for inclusive and sustainable development within the sector and pursue newer vibrant markets through enhanced trade facilitation activities."
Born and raised in the dusty streets of Oshakati, Ms. Nkandi says her appointment also represents gender diversity. "This opportunity further recognises the positive contribution that women can make on issues that shape our development in the transport and logistics sectors".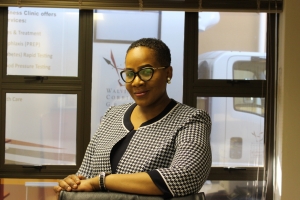 ---