Africa resolute in achieving road safety
Posted: 2 Nov 2019
In order to strengthen the commitment of African member states to road safety, the fourth African Road Safety conference was held in Addis Ababa from 30 September to 01 October 2019.
The conference hosted by the Africa Road Safety Organization of NGOs and Experts gathered various industry stakeholders from across the planet to engage continental consultations on post 2020 Road Safety Strategies.
Attending the conference as the Coordinator for the Africa Corridor Management Alliance (ACMA), Walvis Bay Corridor Group's Eric Shimumbwe expressed his gratitude at the concerted efforts from African countries working towards building a political framework to improve road safety.
According to Mr. Shimumbwe, the meeting recognised that despite being the least motorised continent, Africa has the highest road traffic fatality rates in the world and as such proposed a strategic framework for road safety in Africa in support of the African Union's agenda 2063 and the United Nations Sustainable Development Goals come the next decade.
Notwithstanding the low performances recorded in the implementation of the African Road Safety Action Plan 2011 – 2020, the meeting acknowledged countries who have made an effort to implement this plan and the UN's Decade of Action for Road Safety. Namibia was commended for ratifying the Africa Road Safety Charter earlier this year. The Charter, which was adopted on 31 January 2016 by the twenty-sixth ordinary session of the Assembly in Addis Ababa, serves as a policy framework for Road Safety improvement in Africa as well as an advocacy tool to facilitate an enabling environment to drastically curb road accidents.
Meeting recommendations included the creation of a platform that brings together the various stakeholders from the public and private sectors, Regional Economic Communities (RECs), Corridor Management organisations and civil society to share experiences and best practices, and most crucially encourage each other to ensure the commitments made towards road safety initiatives are followed through.
According to WBCG's Logistics Hub Manager, Mr. Clive Smith, road safety is imperative to ensuring the safe transport of cargo on the corridors. "As the leading promoter for Namibia's logistics hub vision, the WBCG is cognisant of the ensuing challenges that increased road traffic will bring to our roads. It is important for us to participate in a platform such as the recently held African Road Safety Conference and learn from and share best practices on how to obtain better safety for all road users", he says.
According to Mr. Smith, it is critical and incumbent on the entire Namibia road sector principals and road safety stakeholders as well as users, to embrace, support and intensify the efforts that are being taken towards substantially reducing and curbing the number of road traffic crashes, the fatalities and injuries from these crashes and as a result reduce the economic losses resulting from them.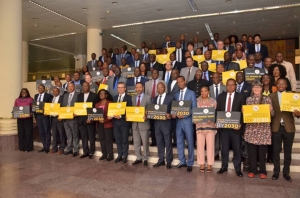 ---