33 Namport employees graduate as STS crane operators
Posted: 2 Nov 2019
The Namibian Ports Authority conferred certificates of competency to 33 of its staff members who successfully completed the first ever Ship to Shore Cranes training in Namibia.
Liehberr Africa, who emerged as the successful trainer after a comprehensive selection process, conducted the training. The training, which is normally conducted over a period of two years commenced in April this year until August 2019.
Speaking at the graduation ceremony, Mr. Lukas Sturn, General Manager of Liehberr Africa, mentioned that the trainees underwent intensive sessions on the Liehberr state of the art simulator giving the trainees a practical and realistic feeling of operating the cranes.
Namport's first ever-female STS Crane operator Ms. Priscila Damases was amongst the recipients of the certificates of competencies, which were awarded.
Acting CEO, Mr. Kavin Harry, said that due to the faith in its own workforce "the management team made a deliberate decision to invest N$9 million and train its own staff members as opposed to getting operators from elsewhere".
The trainees were subjected to theoretical as well as practical training to ensure the highest levels of competency. The Port Authority aims to increase the current 27 moves per hour which are carried out by the STS Cranes to 30 moves per hour in the very near future as it works towards becoming Africa's express hub to International Markets.
In addition to being equipped with new skills the graduates will be mentored and coached to ensure transfer of the newly acquired skills to others in the not too distant future.
[Source: Namport]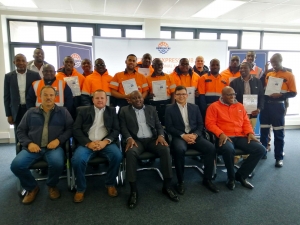 ---