TransNamib looks at automation to improve its business
Posted: 6 Dec 2019
Like many other industries, the transport and logistics industry derives great benefit in terms of improved efficiencies created by advancements in technologies. Fitting to its new business strategy, TransNamib is assessing its current systems and processes.
Speaking at the 11th Annual Transport and Logistics workshop earlier this month, TransNamib's Executive for Technology and Innovation, Logan Fransman, explained that the rail operator is currently researching prospective signaling technologies that could be considered to improve operational efficiencies at TransNamib.
One of the signaling systems the company is looking into, involves onboard computing systems and beacons that link up with base stations in order to transmit freight information. This would enable the rail operator to provide customers with real time information on cargo movement. Incorporated in this system is the limited movement authority, which is a safety tool that assists to prevent train on train collisions by notifying the train to slow down if another train is detected in front of it.
Discussing maintenance systems, Mr. Fransman explained that geo-fencing software, a location-based service to detect the geographical location of trains, in conjunction with a break status monitoring system, can be used to quickly detect break downs. "This is a crucial tool for TranNamib, if you consider its aged fleet of locos", explains Mr. Fransman. Vision technology, he further explained, is another maintenance option that scans the railway tracks to detect discrepancies and maintenance-related matters, which would inform the rail operator which sections of the track to proceed carefully on.
With the constant introduction of improved and new technologies, there are innovative systems that can be deployed for every area of operation. As the person heading the technology and innovation team, Mr. Fransman is tasked to ensure that TransNamib uses new technologies to obtain their goal of improved efficiencies.
As a show of TransNamib's commitment to embracing innovation, Mr. Fransman noted that the company is currently testing an autonomous vehicle which clears sand off tracks. The vehicle is being tested on the railway line in the south of Namibia, where the sand regularly blows over the tracks causing significant time delays. "When employed correctly, automation can substantially improve organisational efficiency and performance".
The executive urged both students and industry present, to look at some of these disruptive innovative ways and invited them to approach the national rail operator with ideas to improve its services.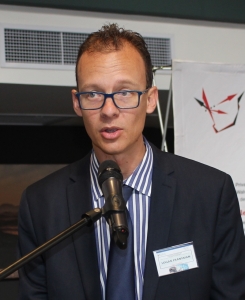 ---