WBCG PROVIDES SUPPORT TO KHOMAS WORLD AIDS DAY ACTIVITIES
Posted: 6 Dec 2019
The Walvis Bay Corridor Group (WBCG) Wellness Service supported the country's AIDS day activities by providing testing services at the World AIDS Day commemoration event held at the Sam Nujoma Stadium in Windhoek on the 2nd December.
The team further provided testing services and exhibited at Namibia's first regional AIDS conference held at the Safari hotel on the 3rd and 4th of December in Windhoek. The two-day conference was jointly hosted by the Office of the Governor of the Khomas region, the Khomas Regional council, the Ministry of Health and Social Services, the Regional AIDS Coordination Committee (RACOC), the City of Windhoek and support groups of people living with HIV.
The conference was hosted under the theme, "Accelerating efforts towards epidemic control and ending AIDS in Namibia in 2030". A theme very befitting since the Centre for Disease Control and Prevention's (CDC) announcement last year that the HIV incidence rate among adults in Namibia had decreased by 50% in the years 2012 to 2017. This means that Namibia is one of six countries worldwide to reach the global '90-90-90' targets for 2020 set by the United Nations Aids programme, UNAIDS. The '90-90-90' target means that 90% of people with HIV in Namibia know their status, 90% of those diagnosed are on treatment and 90% on treatment are virally suppressed, meaning they can't pass the virus on to someone else.
According to Walvis Bay Corridor Group (WBCG) Project Manager: Wellness Service, Edward Shivute, the WBCG's Wellness team spent months in the field piloting their community-centered approach to reach the vulnerable and hard to reach population. "WBCG is constantly venturing towards improving the access to services for key populations such as sex workers and the mobile population – specifically long-distance truck drivers and the surrounding border communities in Namibia".
He stated that while significant progress has been made in AIDS response, Namibia still has some work to do. "The WBCG strives to increase its reach – linking quality care and prevention services to those in need across the country", says Mr. Shivute.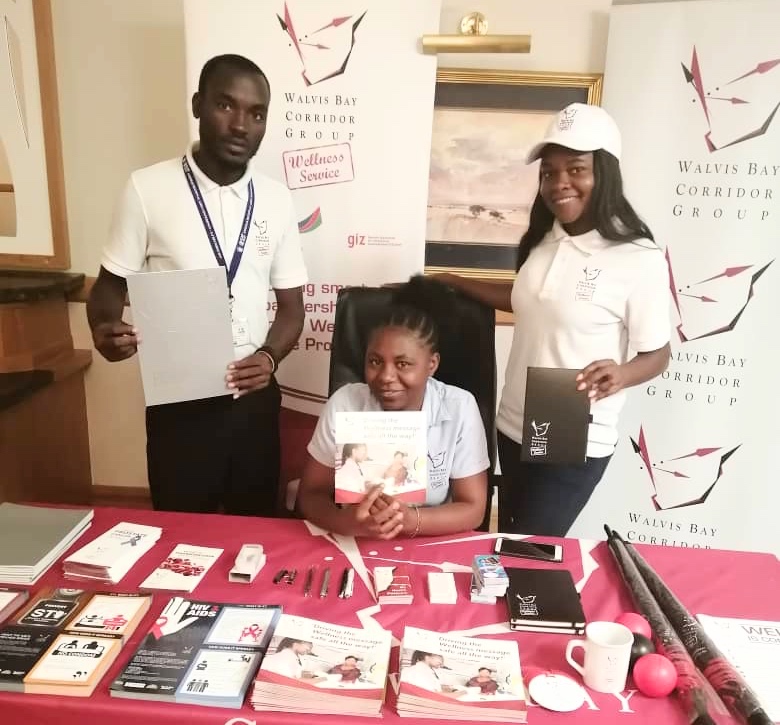 ---