WBCG Highlights 2019
Posted: 31 Jan 2020
January
Over thirteen thousand tested in 2018
With four roadside wellness clinics, four mobile wellness clinics and 24 personnel, the team managed to test a total of 13 442 people for 2018. This is nearly double the number recorded in 2017.
Namibia's Road Network Increased
Namibias road sector has increased the road network from 42 000 kilometres in 1990 to 48 000 km by 2018. These and the continuous investment in the upkeep of our road network enabled Namibia incubate quality road infrastructure that is ranked at 28th place globally out of the 140 countries assessed in the 2018 Global Competitiveness Report.
TransNamib and Botsrail sign collaborative agreement
The cooperation aims to increase trade between the two countries via the Trans Kalahari route.
Namibia Ranked as one of Africa's top 10 Most Lucrative Countries for Investors
How Africa News recently reported Namibia as one of Africa's top 10 most lucrative countries for investors, it is ranked 5th in Market Performance and 55th in Trade Freedom.
February
WBCG cross-border wellness initiatives thrive
WBCG, under its Wellness Project, handed over two roadside wellness clinics situated in Sesheke, Zambia and Namacunde, Angola to the countries' health ministries. WBCG assisted those governments to set-up the cross border clinics.
Container Liners Operating Forum – nearing a decade of representing container shipping lines
The Container Liners Operating Forum represents all container shipping lines calling and servicing the Walvis Bay port directly. Established in 2010, the association has supported cargo volume growth through the Namibian Ports by providing a platform for its members to discuss matters pertaining to the container supply-chain.
WBCG and orange babies collaborate to provide HIV testing at Vyf rand
Residents at Okahandja's Vyf Rand informal settlement were granted access to much-needed wellness testing facilities. Over a hundred residents of this vulnerable community received general biometric screening and HIV testing on Saturday, 02 February 2019.
Namibian rail sees an up in freight volumes
Namibia's railway operator, TransNamib has recorded growth of eight percent in freight volumes and seven percent in revenue between February 2018 and February 2019.
March
The launch of the Namibia State of Logistics Report
Namibia's first state of logistics report was launched and presented to the industry. Namibia's Logistics Hub vision heralds the examination of our logistics performance indicators in the domestic and international logistic arena. Works and Transport Minister, Hon. John Mutorwa dubbed the report, which documents Namibia's size and the contribution of logistics to the country, "a milestone in Namibia's development as a logistical core for the Southern African Development Community (SADC)".
TransNamib stimulates growth at Grootfontein
TransNamib and Ascon Energy (Pty) Ltd signed a Rail Transport Agreement (RTA) on 20 March 2019 for the transport of coal, containers and various commodities between Walvis Bay and the inland terminals of Grootfontein and Gobabis.
Tsumeb-Otavi railway line gets upgraded
The upgrading of the railway line between Tsumeb and Otavi to SADC standards was completed by the D&M Rail Construction Company. The old 30kg rails, which limited trains to a top speed of 40km per hour, were replaced with the new required 48kg rails, which will enable trains to reach a high speed of 100 km/h with comfort.
Namibia's Trade Facilitation Committee undergoes training
The WTO requires all member countries that have ratified the Trade Facilitation Agreement to create a National Trade Facilitation Committee (NTFC). Namibia ratified the agreement in February 2018 and is now in the process of setting up their NTFC.
RFA hosts successful continental Road Maintenance Fund AGM
Namibia's Road Fund Administration hosted the 17th Annual General Assembly for the African Road Maintenance Funds Association (ARMFA) in Swakopmund. 150 delegates from road funds, bilateral and multilateral institutions from the continent and the globe joined policy makers in the road financing sector at this important meeting to deliberate on key issues affecting the roads on the Africa continent, and to find common solutions to preserving and maintaining the continent's road assets and infrastructure. This was the first time that Namibia has hosted this prestigious gathering.
April
European business show keen interest in Zambian market
WBCG Business Development Managers attended the 6th Agritech Expo held in the Chisamba district in Zambia. They related that there is a clear indication of interest from many new European enterprises who intend to set up operations in Zambia.
Customs reform to positively impact cross border trade
Namibia's newly formed Revenue Agency (NamRA) will replace the Customs & Excise and Inland Revenue Departments in the Ministry of Finance in the near future. It will operate as a semi-autonomous body responsible for revenue collection, the administration of tax, customs & excise laws, as well as the efficient provision of services to taxpayers. In support of Namibia's Logistics Hub endeavours, NAMRA aims for faster clearance times for legitimate trade and increased transparency in regulatory processes and decision-making.
May
Four RORO vessels call at the Port of Walvis Bay in the month of May.
The Port of Walvis Bay received 4 Roll-on/Roll-off (RoRo) ships during May. The RoRos combined discharged over 350 vehicles destined for the Zambian, Zimbabwean, Botswana and local markets.
TransNamib revives Karibib Station
TransNamib's mission to unlock the commercial value of every train station in the country saw the rail operator starting this approach by revitalising the station at Karibib. TransNamib aims to attract rail friendly cargo volumes mined in the area for export through the Port of Walvis Bay.
WBCG assists Namdeb with employee wellness campaign
The special month-long wellness campaign kicked off on the 20th May with onsite testing at the mine's land-based operations centre in Oranjemund. This was due to a Smart Partnership that the mining giant signed with the Walvis Bay Corridor Group (WBCG) to strengthen its employee wellness programme.
June
Works and Transport Minister reaffirms support to WBCG
The Minister of Works and Transport, Hon. John Mutorwa visited WBCG's Head Office to better acquaint himself with the company's activities and to reaffirm support to WBCG.
10 720 metric tonnes of project cargo for Mohembo Bridge Botswana via the Port of Walvis Bay 
The Nomadic Milde vessel docked at the Port of Walvis Bay with a consignment of 10 720 metric tonnes of project cargo which will be used to complete the construction of the Mohembo Bridge in Botswana.
Rail link planned for Namibia – Zambia corridor
Zambia is investing in the expansion of their railway system network, that includes the 200 km Livingstone – Kazungula – Sesheke rail project, and the 800 km Solwezi – Kaoma – Sesheke western rail project to link Zambia and Namibia up to the port of Walvis Bay.
WBCG Wellness Service joins campaign to combat HIV in adolescents
Through collaboration with the MoHSS and with support from the Global Fund through NANASO, WBCG has since January 2018, actively engaged in strategies to target out of school Adolescent Girls and Young Women (AGYW) with HIV prevention interventions.
July
Zim now linked to sea through Walvis Bay
Zimbabwean President, H.E. Emmerson Mnangagwa inaugurated the newly constructed dry port situated in the Port of Walvis Bay at the end of July. has said the country's newly launched N$50 million dry port at Walvis Bay will increase trade for the land-locked country. Mnangagwa
Zimbabwe inaugurated their newly built dry port at Walvis Bay at the end of July.
TransNamib assists to realise decentralised logistics centres
TransNamib is availing the warehousing facilities located at their stations countrywide, offering it to private sector logistics companies to operate as logistics centres.
West African states study WBCG model
The Walvis Bay Corridor Group was contracted to assist the Economic Community of West African States (ECOWAS) Commission in their study tour to the Walvis Bay corridors.
D&M Rail praises WBCG"s Wellness Services
D&M Rail was greatly impressed with the quality and efficiency of the services provided by WBCG through the employee wellness screening campaign. This was the first session of the Employee HIV/AIDS and Wellness Programme Implementation Agreement signed between the two entities in March this year, concluding in 2021.
August
Port of Walvis Bay Port inaugurates New Container Terminal
Industry gathered to inaugurate the new deep-water container terminal at the port of Walvis Bay on Friday, 02 August 2019.
TransNamib moves first shipment of Northern Cape Manganese fro Ariamsvlei to Luderitz
A milestone has been achieved with TransNamib moving the first shipment of Northern Cape manganese from Ariamsvlei to Lüderitz on 1st of August. 520 tonnes of manganese was offloaded at the storage facility in Lüderitz on Saturday, 03 August 2019. This rail shipment filled 20 wagons loaded with 26 tonnes of manganese per wagon and was pulled by two locomotives.
September
Namibia pilots visa on arrival project
Access to Namibia was made significantly easier with travellers from 47 countries to be exempted from applying for visa's before departing their country of origin.
Namport records a 19 percent increase of TEU's shipped in the month of September
The Namibian Ports Authority has in the month of September 2019 recorded a commendable increase of 19 percent of twenty-foot equivalent unit (TEU)'s shipped and 33 percent of TEU's that landed at the Port of Walvis Bay, in comparison to September 2018.
New container terminal creates private sector opportunities
The old container terminal now provides opportunities for private sector to partner with Namport in their quest to develop a dedicated Breakbulk Terminal facility.
BHL assists to shorten the link between Walvis Bay and the Copperbelt
BHL upgraded a 221km stretch of gravel road between Kaoma and Kasempa in Zambia. This improved section of road means that the route to Walvis Bay from Solwezi has been shortened by 400 km for trucks and saves them two days worth of travelling time
October
WBCG welcomes new chief executive officer
The Walvis Bay Corridor Group welcomes its new chief executive officer, Mr.
Mbahupu Hippy Tjivikua, who joined the team on the 1st October. Mr. Tjivikua rejoins WBCG, after serving as Project Manager for the Safe Trade and Transport Corridors project in March 2008 to May 2011.
New Walvis Bay terminal records improved container handling
The recent investment in the Ship to Shore Cranes continues to bear fruits, as the terminal division deployed at the New Container Terminal managed to record 27 moves per hour for the Rhine Maersk vessel.
WBCG assists with emergency delivery of baby at Oshikango border 
Nurses from the Walvis Bay Corridor Group's Wellness Clinic in Oshikango rushed to assist a mother who was giving birth to a baby at the Oshikango border post on the morning of Friday, 18 October.
Botswana Dry Port expands its services
The Botswana Dry port which is managed by Sea Rail Botswana is undergoing a facelift at its premises in the Port of Walvis Bay. The Dry Port is currently in the process of upgrading its facilities and will soon commission 40 reefer plug points at the end of the month. The facility currently offers container handling, vehicle handling and warehousing services for its clientele. The commissioning of these reefer points is in line with the dry port's vision of being a one stop shop for all its users.
November
DP World and Namibia's Nara Namib sign MoU on Walvis Bay Free Economic Zone for industry and logistics
The facility at Walvis Bay will provide businesses with development-ready land for industrial and logistics operations, pre-built warehouses and office accommodation.
Namibian Ports Authority marks 15 years of ISO Management systems accreditations
Namport has consecutively received its 15th year accreditations from the International Standards Organizations (ISO). This follows a successful external audit conducted by the South African based National Quality Assurance (NQA) representing the Global Certification Body based in the United Kingdom. The external auditors covered the ISO 9001 Standard (Quality Management System), the ISO 14001 Standard (Environmental Management System) and the ISO 45001 Standard (Health and Safety Management System) and as a result conferring Namport with the positive report on all three standards.
Namibia & Zambia officials visit Katima Mulilo and Wenela border posts
On 7th November 2019, the Walvis Bay – Ndola – Lubumbashi Development Corridor's management committee led a team of Namibian and Zambian senior government officials and private sector representatives on a tour of the common border at Katima Mulilo and Wenela border posts on the Zambian and Namibian sides.
Indian High Commissioner pledges support to Namibia's Logistics Hub
During a courtesy visit to WBCG's head office in Windhoek this month, the High Commissioner of India, H.E. Prashnat Agrawal commended the relentless efforts of the company, towards trade facilitation as a strategy for the implementation of the logistics hub master plan in Namibia and offered support and India's expertise to the sector.
Delivery of steel rails for upgrading work on track
The second consignment of about 3860 steel rails, around 7500 metric tonnes, was discharged from the general cargo vessel Vestis Isle at the Port of Walvis Bay on Thursday, 21 November 2019. The rails are meant for the upgrading of the Walvis Bay to Kranzberg railway line section, which is about 210 km.
AUC handles FERI certificate for DRC in Namibia
Africa Union Cargo Namibia (AUCN), is now the principal agency for the handling of FERI and FERI-related certificates, such as the FERI Maritime, Certificate of Destination (CD), Intervention Commission (IC), FERI Regional for cargo destined to the Democratic Republic of the Congo (DRC). The contract, which was signed in mid 2018 in Kinshasa, strengthens the system of traceability of Congolese cargo in the southern part of Africa, including Namibia.
NTA convenes industry meeting to identify scarce occupations
The Namibia Training Authority held a stakeholder meeting at the Namport Head Office in Walvis Bay to introduce the Transport, Warehousing and Logistics Industry Skills Committee to the industry. The team additionally, was looking to gain insight into the skill requirements and needs for the industry.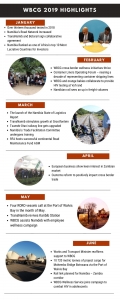 ---