Foreword by CEO
Posted: 31 Jan 2020
At the start of every year, we tend to play with the idea of curating a list of resolutions. We all have something in mind that we would like to commit to, something that will make us better versions of ourselves.
I believe the same is true for the Walvis Bay Corridor Group. Although 2019 saw the company undergo many changes, 2020 is one of new goals and benchmarks that we have set for ourselves to further compliment our goals and achievements.
2019 saw positive growth in line with cargo on the corridors. The Port of Walvis Bay has readied itself to accommodate the increased capacity through the newly completed container terminal. We have also seen development in the rail sector, with the implementation of TransNamib's road to rail strategy. It is evident that our ongoing efforts to place Namibia as a gateway to the Southern African Development Community (SADC) continues to bear fruit.
Our Wellness Service remains one of our flagship projects. Through various collaborations and partnerships, we have been able to develop this department into a service centre, not only for border communities, but also for the broader society where wellness greatly impacts the mobile population in the transport sector.
Although the negative impact on the South African economy is putting pressure on that market, Namibia is a developmental process where there is constant transformation. The Walvis Bay Corridor Group's vision to develop Namibia into a Logistics Hub remains unwavering.
It remains a gratifying aspect to work with staff who are passionate about their work and who are committed to the success of our projects and the company. We would like to thank you for your interest and invaluable support during 2019 and invite you to journey with us as we successfully grow our business in 2020.
Regards
Mbahupu H. Tjivikua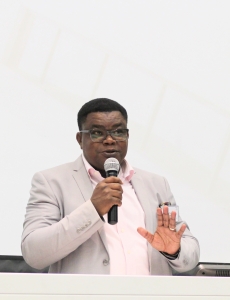 ---