WBCG in 2020
Posted: 28 Feb 2020
 This year we celebrate two decades since the establishment of the Walvis Bay Corridor Group (WBCG) in 2000. We continue on our journey of steady change and development and our growth as a facilitator to improve the opportunity of developing Namibia as a gateway for transport and logistics in the Southern African Development Community (SADC).
Tapping into our strength as a Public Private Partnership (PPP), we are able to chip away at the bottlenecks on the routes, to reduce transit time on the corridors thereby enabling a smoother flow of cargo. We still have a way to go on this objective and persistently engage the relevant stakeholders in order to achieve the goal of harmonised systems and procedures on our corridors.
While it's no secret that markets across the globe are experiencing difficulties in these challenging times, which indicates further volatility in the months ahead, we are emerging stronger and are more optimistic about the future.
There has been an increase in transit cargo into and from Zambia and the DRC. This positive growth in volumes on the Walvis Bay-Ndola-Lubumbashi Development Corridor is a sign that our on going efforts to promote Namibia as a viable trade route in the region continues to reach new customers. Business with the Zimbabwean market is also on the trajectory path.
The Port of Lüderitz has seen a drastic increase in cargo activity. It now handles up to 800 000 tonnes per annum and experiencing a significant increase in passenger vessels. On another positive note, the Uis Tin Mine managed by AfriTin Mining, earlier this month shipped its first consignment of tin concentrate to Thailand via the Port of Walvis Bay.
We continue to build our network, developing great relationships of which some develop into long-lasting friendships. We therefore thank our stakeholders who make this possible, from both the public and private sectors in Namibia and beyond.
Let us continue to successfully move forward in 2020.
Yours in transport
Mbahupu Tjivikua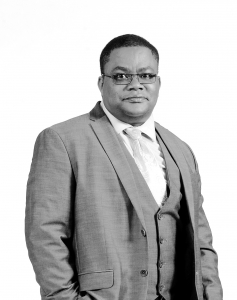 ---