WBCG welcomes new business development manager for DRC
Posted: 3 Apr 2020
"I have a keen interest in developing the business relationship between Namibia and the Democratic Republic of Congo (DRC)", explains Mr. Jen Mbayo when asked why he joined the Walvis Bay Corridor Group (WBCG). "I believe in one African economy and one nation. As the link is made through transport corridors, I deem my appointment at WBCG as well-matched".
Assuming the role of Business Development Manager (BDM) for the WBCG's office in the DRC, Mr. Mbayo brings with him a vast array of expertise and experience.
Mr. Mbayo holds qualifications in Agriculture and Natural Resources Management from the Namibia University of Science and Technology (NUST) as well a qualification in Business Studies from the Institute of Commercial Management in the United Kingdom. He further has working experience in international trade and trade collaboration with the country's public sector. "I therefore understand the need for economic growth of the Southern African Development Community (SADC) region and the importance of strategic partnerships with key stakeholders", he says.
As BDM for the DRC office, Mr. Mbayo sees his role as a significant contributor to WBCG's mandate. "While I am still assessing the industry as a state of business in DRC, I anticipate a lot of business development activities that will increase cargo for Walvis Bay", he says.
Officially opened in 2012, the Walvis Bay Corridor Group's DRC office focuses primarily on marketing and promoting the utilisation of the Walvis Bay-Ndola-Lubumbashi Development Corridor (WBNLDC).
"WBCG plays a significant role in facilitating trade in the SADC region and Africa as a whole", Mr Mbayo states. "The challenging multi-disciplinary working environment and its unique Public Private Partnership (PPP) model, makes this an interesting institution to develop one's skills. I am keen to contribute the WBCG's mandate and see the volumes grow on this corridor."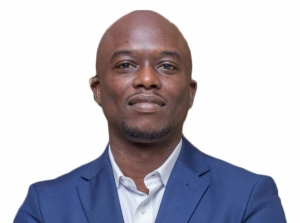 ---