Renewable energy holds opportunity for logistics industry
Posted: 3 Apr 2020
A country like Namibia has abundant renewable energy sources like solar, wind, wave and biomass. These resources could, in the near future, contribute up to 20% of the national electricity production. Within the next 10 years, technologies like wind, solar, hydro and biomass could become economically viable without any subsidies.
The development of renewable energy resources in Namibia is a key input for development. Namibia direly needs standalone mini grids that can compensate for rural areas where the conventional grid cannot easily reach. Preferably these could generate power from renewable energy 4 of 12 sources and the excess could be fed into the conventional grid at the time when a connection transmission line is constructed.
Government is currently creating an enabling environment for this sector, developing the required legislative tools such as the national integrated resource plan, the national independent power producer (IPP) policy and the revised market framework model.
Government-owned utility Nampower last year announced it will invest N$4.7 billion over the next five years to add 220 megawatts of renewable power capacity to its generation mix. More specifically, Nampower intends to tap into abundant solar and wind energy, as well as biomass, resources to build four renewable power plants across the country.
Several engineering, procurement and construction players in the solar and wind areas have started setting up projects in the hinterland. The logistics industry should remain vigilant of the ample opportunities emerging as a domino effect from Namibia's growing renewable energy sector.
An opportunity exists for specialised supply chain services to this industry. Renewable energy equipment transportation translates into an opportunity for end-to-end logistics. The need of the hour is to introduce super-specialised services, which can cover the factory-to-foundation chain. An efficient logistics partner can not only secure competitive pricing for equipment at every stage of the project execution, but also suggest the most-efficient routing options. The development is extremely encouraging for companies providing end-to-end logistics solutions because of the critical touch points involved in the entire journey of the shipment.
As renewable power producers are focusing on cutting costs, the logistics companies catering to this segment should concentrate on efficiency gains. It makes good business sense for the logistics players to foray into this space since renewables, at a global scale, are poised to power ahead as world economies are rooting for a less carbon or carbon-free economy.
[Sources: mmme.gov.na; energyworld.com; solarmagazine.com]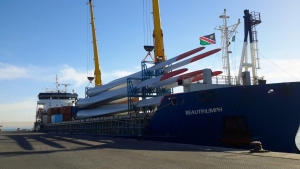 ---