UNIATLANTICO impressed with efficiencies at the port of Walvis Bay
Posted: 1 May 2020
UNIATLANTICO's MV UNISTREAM called at the port of Walvis Bay in March, to offload 7 500 tonnes of manganese ore destined for CNNC's Rössing Uranium Mine. The vessel carried the cargo from Morocco and returned to Gabon with a shipment of Namibian salt.
This is the first of the many regular calls to be made to the port; importing manganese ore and exporting salt. "We are very happy with operations at the port of Walvis Bay. The discharge and reload of commodities are done very efficiently, which is a great pull factor for using the port", says Andreas Bergmann, UNIATLANTICO's Managing Director in Germany.
Although UNIATLANTICO has called at the port in the past, their continued use of the port and its facilities stems from engagements with the Walvis Bay Corridor Group (WBCG).
"The WBCG is rendering great work in this industry. Collaborating with them has enabled us to acquire new contacts for markets. We consider this quite invaluable and remain keen to seek new business cooperation with companies in Namibia", says Bergmann.
WBCG's Business Development Manager in South Africa, Irvaan Maharaj, was instrumental in ensuring that UNIATLANTICO increase their calls at Walvis Bay. "I am excited about this venture with UNIATLANTICO and I am even more keen about future shipments of Ammonium Nitrate to be transported to the rest of the southern African region, through the port of Walvis Bay", he says.
UNIATLANTICO has offices in Hamburg (Germany), Naestved (Denmark), Antwerp (Belgium), Lisbon (Portugal) and Cape Town (South Africa) and serves the demand of its clients from oil and gas to construction, mining and agriculture industries. The company owns and manages a fleet of 10 modern multi-purpose / dry cargo vessels, including the 9 750ts dwat MV UNISTREAM, which carried the manganese ore.
While all industries across all sectors have been affected by the Coronavirus pandemic, the next consignment of manganese ore is pending, waiting for the easing of the lockdown measures.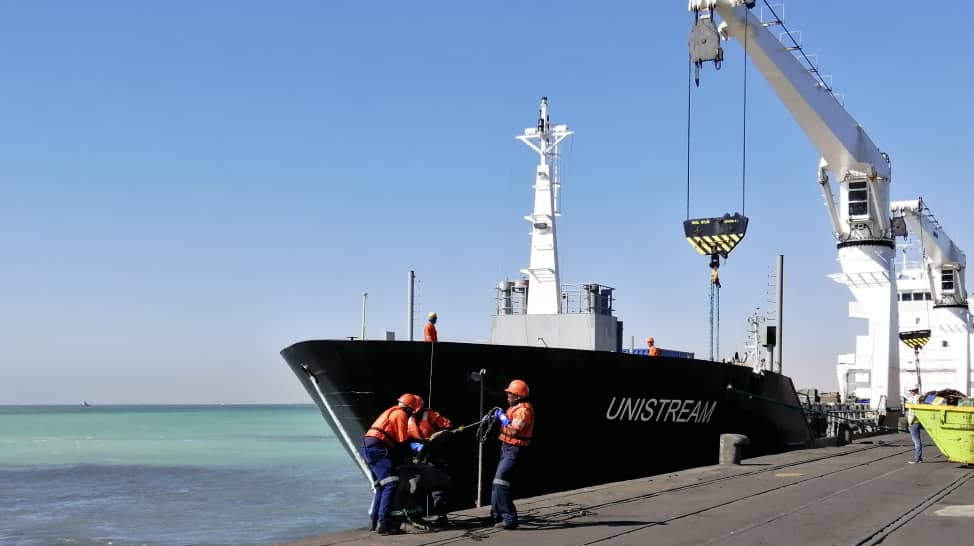 ---