Alistair Group supports WBCG's Covid response efforts
Posted: 26 Jun 2020
Alistair Group has donated 1 000 Covid-19 safety kits to the Walvis Bay Corridor Group's (WBCG) Wellness Service Project in aid of the group's services to the trucking community amid Covid-19.
Wellness Services Manager, Edward Shivute, who received the kits at the Walvis Bay temporary truck port facility mid June, says these kits are vital in ensuring that Covid-19 regulations are adhered to and maintained.
"While WBCG greatly appreciates the generous donation and applauds Alistair Group Namibia, we urge other transporters to also donate whatever they can to keep our drivers safe", Shivute said.
The safety kits, which contains a face mask, a pair of gloves and hand sanitizer, will be distributed to all long distance truck drivers passing at the WBCG Roadside Wellness Clinics as well as those quarantined at the temporary truck port facility in Walvis Bay.
Thiaan Arangies, Country Lead for the Alistair Group in Namibia explained that the transport industry is under a great deal of pressure to limit the spread of the virus while keeping the trucks moving. "When it comes to prevention measures, we need to assist where we can", says Mr. Arangies. "We are grateful to the Walvis Bay Corridor Group for their support to the industry and we are thankful for opportunity to assist and do our part to prevent the spread of Covid-19".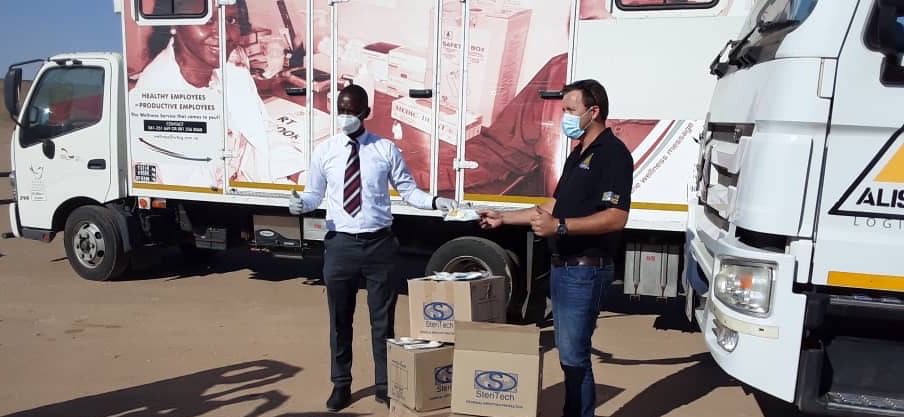 ---