WBCG's South African market records steady growth
Posted: 9 Sep 2020
A combination of persistence and service has seen the business development efforts of the Walvis Bay Corridor Group's (WBCG) South African office grow steadily, with tangible outcomes as a result.
According to WBCG's Business Development Manager in South Africa, Irvaan Maharaj, South Africa has a large number of global and procurement decision makers who influence a lot of the international players concerned with investment and trade opportunities.
"We have been able to intercede and facilitate various projects as opportunities for the South African market in Namibia are worthwhile. Customers vary from freight forwarders, cargo owners and transporters and shipping lines who continue to utilise the port of Walvis Bay because it is centralised for the SADC region and to the rest of the world", Maharaj stated.
Maharaj notes that with the current and ongoing challenges at the South African ports, his facilitation role and continued updates concerning the ports of Walvis Bay and Lüderitz, such as the development of the New Container Terminal and employment of state of the art machinery like the STS cranes to improve port efficiency, have nudged cargo owners to consider and utilise the Namibian ports.
"Another crucial factor is facilitating projects from start to finish. I believe what we are offering is a unique service to our industry, therefore developing and maintaining relationships with all customers and members of WBCG is absolutely vital.
Since joining WBCG in 2018, Maharaj has been involved with numerous feasible projects. Some of the projects are aligned to the various corridors, especially the Trans-Kalahari Corridor (TKC), the Walvis Bay-Ndola-Lubumbashi Development Corridor (WBNLDC) and the Trans Oranje Corridor (TOC). Other projects have seen Maharaj work with the WBCG's office in Brazil on imports to southern Africa, as well as the company's undertaking to develop a direct call from Brazil to Walvis Bay.
Some of the positive projects include automotive parts for Botswana from China, frozen foods for Zambia and Botswana from various main ports in South America and copper cathodes from Kolwezi to China, all of these via Walvis Bay.
"Since April 2019, I redirected some of my efforts to communicate and to facilitate discussions surrounding the port of Lüderitz and more importantly reviving the Trans Oranje Corridor. There are mines currently being developed in the Northern Cape where the maximum output for production of bulk manganese are between 600 000 – 1000 000 tonnes per annum. While these mines are still under construction to be commissioned in 2021, we have started discussions with our various stakeholders to offer logistics solutions via Port of Lüderitz", he stated.
As a result of the outbreak of the Covid pandemic, the ports of Namibia have been on the receiving end of cargo consignments otherwise destined for competitor ports. Although South Africa's ports are open again, the lockdown has hurt their non-essential cargo capacity where we have seen an increase of the cargo from these ports have been diverted via the Port of Walvis Bay.
"Another major contribution toward securing cargo from South Africa, is the services from our Wellness Service Department, with their outstanding services to transporters during the COVID-19 pandemic".
Mr Maharaj thanks the CEO Mr Mbahupu H. Tjivikua for all the guidance and support towards his business development activities and projects that he has been working on.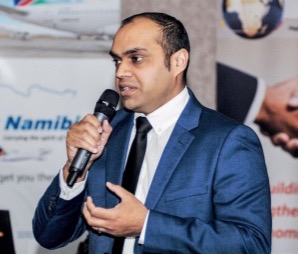 ---