Opportunities for Women in the Transport Sector beyond Covid-19
Posted: 2 Oct 2020
The transport industry is traditionally perceived to be male-dominated with only a few female professionals who are mostly in lower decision-making and administration positions. To have improved gender equity it is imperative to transform the transport industry by increasing the representation of women in all areas of the sector.
Ms Chantel Burger who is the Windhoek Branch Manager at Woker Freight Services (WFS), has been in the logistics sector for over 20 years. Ms Burger says in her experience she has been frowned upon when showing up as the main coordinator of a shipment. "It is always your display of knowledge, politeness, professional but firm character in any and all situations, may it be in the normal day to day run of logistics or high pressure major projects, that will determine your acceptance and worth in the logistics field," she says.
According to the President of the Truckers Association of South Africa (TASA), Ms Mary Phadi, there are not enough opportunities for women in the transport sector. This, she says, is due to several gaps that need to be closed, in order for women to dominate in the industry. These  gaps, amongst others, are unclear procurement processes, communication regarding tender opportunities, lack of engagement between women in freight, shortage of technical skills required to perform in the male dominated industry, skills transfer, a low representation of women in the industry and the lack of encouragement for joint ventures between men and women.
Despite the challenges highlighted, Covid-19 has presented an opportunity for women to bridge these gaps, by creating virtual platforms where women can engage their male counterparts, share best practices and other relevant information. Other opportunities for women in transport beyond Covid-19 are awareness campaigns, targeted training programmes, funding and financing, communication platforms which are accessible to women on all levels in the SADC region, deliberate efforts and a commitment to utilise women owned businesses.
Speaking at the Trans Kalahari Corridor Secretariat's webinar hosted in August 2020 under the theme: 'Covid-19: An opportunity or cost', Ms Phadi encouraged industry representatives to advance the radical economic transformation and emancipation of women, youth and people with disabilities through set-aside projects.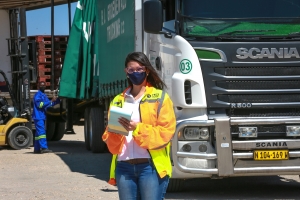 ---