Shifting Covid-19 Effects towards Economic Recovery
Posted: 26 Nov 2020
The coronavirus pandemic brought with it devastating consequences on the micro and macro economies, significantly affecting international trade. Against this background, the Namibia German Centre for Logistics (NGCL) together with the Walvis Bay Corridor Group held a webinar on the 15 October 2020 under the theme "Shifting Covid-19 Effects towards Economic Recovery."
According to Mr. Ngoni Bopoto, Broadside Capital Investment Strategist, in order for us to understand the most probable effect on freight handling in the ensuing recovery, companies need to assume a top down approach – look at the broader economy first. Research by McKinsey has indicated that the path of a general economic recovery will depend on the effectiveness of public health responses to the pandemic, including battling the possible resurgence of the virus (aka a second wave), the government's economic response policy as well as the ability to reinstate business and consumer confidence.
Chief Executive Officer of the Namibia Trade Forum (NTA), Ms. Stacey Pinto, shared data published by the United Nations Conference on Trade and Development (UNCTAD), which showed that global trade fell by 5% in the first quarter of the year, by 27% in the second quarter and its projecting a 20% annual decline for 2020. "With countries closing down, we as a country could not import what we needed for production and this affected how much money we as a country are making and the forex we bring in," she added.
"It is the Covid-19 response measures that were put in place which got us to where we are, and it is only when we understand it from that angle will we be able to put together a package to rescue the Namibian economy," says Mr. Mally Likukela, Economist and Managing Director of Twilight Capital Consultants. According to Mr. Likukela we first need to identify the Covid-19 response measure and its impact to the relevant industry. Once we have established this, we can put a package together to counteract the negative effects of the aforementioned measure, and use this as the way forward. He provided an example of the tourism industry. The measure that mainly impacted the industry was the closure of international borders which led to less tourist visiting the country. The way forward to reversing this impact , would be by  appealing to the domestic market, which would act as buffer for the industry until international tourism picks up. The package should speak to this, while also translating the lessons learned into medium to long term solutions.
Mr. Likukela lastly noted that in terms of value addition, the Namibian Government's intention to further value addition activities such agri-processing and mineral beneficiation amongst, are evident in all of the government's development plans, e.g. National Development Plans, Growth at Home Strategy, etc. He urged businesses, especially the private sector to align themselves with the government's development plans as this will maximize the benefits of these structural reforms.
The event saw key industry players and experts address issues affecting the industry, with discussions on the effect of Covid-19 on global logistics, its effect on the region's systems, the transport industry's response to Covid-19 and Shifting the Covid-19 Paradigm towards economic recovery.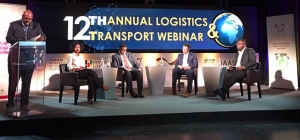 ---