National Road Safety Council shows its support to the Transport Industry
Posted: 26 Nov 2020
The National Road Safety Council (NRSC) has recently become a strategic partner to the Walvis Bay Corridor Group (WBCG). In a handover announced during NBC TV's Covid-19 update programme on Monday, 19 October 2020, the NRSC explained that it is supporting the transport industry with a sponsorship of N$660 000.
Sharing his gratitude for this support the WBCG's CEO Mr. Mbahupu Tjivikua explained that this sponsorship will be used to fund corridor safety activities. The WBCG and Trans Kalahari Corridor Secretariat (TKCS) will work jointly on this project to ensure the mandate is achieved. "We aim to amplify the industry's response towards the adverse impact of Covid-19 on the logistics and transport sector," says Mr. Tjivikua. TKCS Executive Director Mr. Leslie Mpofu added that the support will raise awareness on road safety and security amongst all corridor road users, as this is critical for trade facilitation. Planned road safety interventions include road safety advocacy and awareness, as well as research on the impact of Covid-19 on the industry.
WBCG and TKCS have leveraged their mandate to increase the efficiency of movement along the various Walvis Bay corridors. Advocating for corridor infrastructural development and facilitating various procedural and technical improvements have been crucial activities for the Corridor Management Institutions (CMIs). Their most significant contribution to the industry is the communication platforms created to promote dialog amongst various stakeholders who have a crucial part to play in the movement of goods on the corridors. The platforms allow industry parties to develop stronger relationships in order to better align their needs and share challenges. These platforms were indispensable during the covid-19 lockdowns, when the various countries on the routes implemented fast changing procedures to protect their citizens from the spread of the virus. From a health standpoint, the corridor institution in conjunction with the funding and technical assistance from donor agencies has set up several mobile and fixed wellness clinics for communities and truck drivers along the corridors. The WBCG's Wellness Service focuses on health-related matters such as HIV/Aids, primary health care and more recently Covid-19, amongst others.
"As the custodian of road safety in Namibia, the NRSC deemed it necessary to support the CMIs with regards to safety along our corridors, in order to realise the national goal of becoming a logistics hub for the SADC region," says NRSC Chairman Mr. Eliphas !Owos-Oab. The Chairman further noted that the NRSC is confident that this sponsorship towards the transport sector would be put to good use and will contribute positively towards Covid-19 prevention strategies.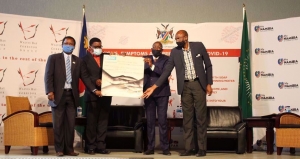 ---