Opportunities created by Covid-19
Posted: 26 Nov 2020
The outbreak of the coronavirus in December 2019 brought worldwide panic and business disruptions especially in our Transport and Logistics Sector. During the initial days of the outbreak, as the Governments around the world were putting up measures to curb the further spread and minimise the risks, transport was only limited to essential goods putting other transporters of general goods in jeopardy.
However, there is a silver lining to this cloud. Covid-19 forced us to re-engineer and re-think the way we do business. Here are some of the opportunities:
We have learned to become more resilient. In the midst of a challenge facing humanity, naturally we    are required to adapt alternatively we remain behind and become extinct. In order for us to successfully survive the impact of Covid-19, the Theory of Evolution and Natural Selection comes to play where we are required to change our traits in overcoming the pandemic. Simply put, do things effectively and efficiently. From inefficiencies and congestion,to more flexible systems and networks that adapt to evolving trade patterns.
1. The increasing use of technology with the use of important tools such as conducting meetings and conferences virtually over zoom, MS Teams, etc, have taught us to be more innovative and eliminate unnecessary travels and undeserved activities. Essentially, Covid-19 is fast-tracking the conversion of the Fourth Industrial Revolution (4IR). Consequently, businesses will be required to invest in technologies.
2. Equally, we are a venturing into a future where Covid-19 has been a catalyst for paperless business where documents can increasingly be shared electronically with minimum or no physical conduct. This saves the environment of unwarranted tree cutting, accumulating papers unnecessarily and pollution. Again, this is triggering the fast-tracking of implementation of Green Logistics, which attempts to measure and minimise the ecological impact of logistics activities.
3. Remote working has become the order of the day where employee's physical presence may not be required but works outside of a traditional office environment.
4. Covid-19 has forced companies and many institutions to innovate and demonstrate manufacturing capability of Namibian local production with items such as masks, sanitisers, etc. Hence, customer expectations for speed, and service and the importance of localised distribution.
5. Covid-19 brought about industry cohesion where various institutions are not necessarily competing but working on leveraging shared resources. Consequently, we are seeing an immergence of integration and de-fragmentation of supply chains.
6. Public and private institutions are demonstrating the capacity to commit and expedite the improvements of some necessary policies and regulations.
7. New sets of skills will emerge that are required to put the transport and logistics sector on a new pedestal.
Despite us living the new norm of wearing masks, social distancing, sanitising and moving only when it is necessary, we have to embrace the new standards and innovative ways of doing business.
Yours in Trade Facilitation, Transportation and Logistics.
Mbahupu H. Tjivikua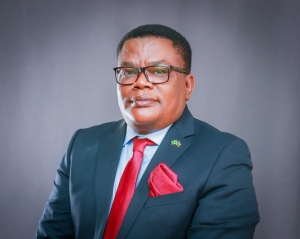 ---