Covid-19 success story: Dr. Lucresia Rooi
Posted: 3 Dec 2020
In August 2020, the Walvis Bay Corridor Group (WBCG) became the first Non-Government Organisations (NGO)  to collaborate with the Ministry of Health and Social Services (MoHSS) on Covid-19 testing, by availing medical personnel and mobile wellness clinics to support the national response team on Covid-19 testing in Windhoek and Walvis Bay. Meanwhile, the response has been blessed with some young and committed medical personnel who have bravely taken up the duties of providing Covid-19 related services to all citizens. One such individual is Dr. Lucrecia Rooi.
Dr. Rooi joined the WBCG in August as part of the medical team at the WBCG mobile wellness Covid-19 testing clinic stationed at the Robert Mugabe clinic in Windhoek. She is one of over 500 health care workers who have tested positive for Covid-19 while in the line of duty.
Frontline healthcare workers are particularly at risk of being infected with Covid-19 everyday as they continue to assist community members with Covid-19 related services including testing, counseling and provision of treatment services for those confirmed to have been infected with Covid-19. Based on her experience, Dr. Rooi narrated that on the 26 August 2020, she received a call from surveillance team after having gone for a routine Covid-19 test a day before and was informed that she tested positive for Covid-19. She was immediately isolated from the rest of her colleagues and went into quarantine for two weeks.
During her time in quarantine, Dr. Rooi received ongoing psychosocial support from well-trained social workers from the Ministry of Health and Social Services, while the treatment which included immune boosters aided her recovery. Subsequent to her 14-day quarantine period, Dr. Rooi was again re-tested on day 12. She was informed that her results came back negative and had therefore recovered from Covid-19. She describes her journey to recovery as lengthy and difficult. "Psychologically it took a toll on me. I had to comfort myself every day at my isolation facility. The hardest thing was to be isolated alone in a room. And I could not physically interact with any humans," she says. Although she was asymptomatic for the most part, she did experience extreme fatigue and later chest pains accompanied by shortness of breath.
Dr. Rooi is grateful for the support and encouragement she received from WBCG during her recovery. WBCG assisted in the delivery of a hygiene care packs to her family and disinfectant to disinfect their house. They also provided Dr. Rooi with a hygiene care pack which allowed her to sanitise her hands frequently. The biggest lesson she learned, during her journey to recovery, is to have patience and trust in God. "Covid-19 is real. Millions of lives have been cut short around the world due to this formidable disease. So, remember to sanitise or wash your hands frequently. Practice social distancing and always wear your mask," she concluded.
Despite the great risk of infection, through collaboration with the MoHSS and with support from its various partners, WBCG is committed to providing Covid-19 screening services in addition to its wellness services offered. WBCG's Wellness department operates mobile wellness clinics with the focus on providing high quality, evidence based and fast on-site bio-metric wellness screening services for employees within the private and public sectors. In addition to this, the department also has roadside wellness clinics that were established in conjunction with MoHSS and development partners. These clinics offer primary health care related services to the mobile populations within the transport sector.
Thus far, WBCG has offered Covid-19 screening services to well over 15,000 cross border truck drivers and 8000 local drivers. A further more than 5,000 general community members have also accessed Covid-19 testing services at the WBCG mobile and fixed clinics in Windhoek and Walvis Bay in partnership with the Ministry of Health and Social Services.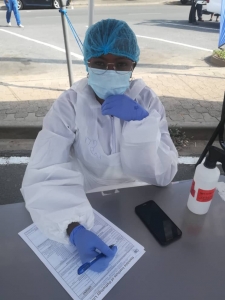 ---