Namdock: 'Leading the fleet' in ship repair and engineering expertise on the West coast of Africa
Posted: 3 Dec 2020
Strategically located on the west coast of Africa in Walvis Bay, Namibia, Namdock is a leader in the West African ship repair market and offshore oil and gas sector, having gained global recognition for its extensive dry dock capacities and exceptional client service – even in the face of a global pandemic.
Namdock, or EBH Namibia as it was formerly known, was founded in 2006 as a joint venture with the Namibian government, represented by the Namibian Ports Authority (NAMPORT). Latterly, a shareholding was taken by a South African company. In 2018, the South African company relinquished all shareholding in the former EBH Namibia, when the foreign shareholding was transferred to the EBH Consortium, a group comprised of prominent Namibian business leaders. As a result, the organisation became truly Namibian, with its shareholding held entirely by NAMPORT, and the EBH Consortium.
To reflect this new reality, it was decided to rebrand the company as Namdock, a name that truly reflects its wholly Namibian composition. With effect from 31 August 2019, EBH Namibia therefore changed its name to the 'Namibia Drydock and Ship Repair Company Pty Ltd' ('Namdock'). Despite a drop in the global oil price and its negative knock-on effect on the offshore repair industry between 2015 and 2019, a still-volatile global oil price, and the knock-on effect of the global CV-19 pandemic in 2020, Namdock and its three floating docks continue to attract local and international clients.
As a nation, Namibia is fiercely proud of its independence, and is also strongly focused on driving economic self-sufficiency and industrialisation. "We have therefore adopted the slogan 'Our Strength Is Local' which not only encapsulates our operational ethos of excellence, service and efficiency; but also our inherently strong relationship with our people and pride in our country," says Namdock's Acting CEO Heritha Nankole Muyoba.
As such, Namdock enjoys the full support of its majority shareholder, the Namibian Ports Authority and, by extension, that of the Namibian government. By reciprocation, Namdock fully supports Namibia's Vision 2030 and the country's sustained industrialisation drive. The next major advantage that Namdock possesses is that it is situated in Namibia. This country stands out on the African continent as having a very stable political dispensation, first-rate and efficiently functioning infrastructure and a customs and logistics authority which is user-friendly, corruption-free and swift in operation.
It is reported that while there are many ship repair yards along the West Coast of Africa, in the main, should a major component be needed, importing such an item and having it delivered to the dockside at one of these yards could take a month or two. By contrast, Namdock, with the support of the country's enlightened customs and logistics system, is able to have similar components on the dockside within 3 to 4 days.
In fact, with three fully operating and well-maintained floating dry docks, Namdock has the capability to repair and maintain vessels up to a size that would include approximately 70% of the global shipping fleet. In addition, Namdock has reduced its average turnaround time for ship repairs from 16 days to an extremely impressive 12-day average. Namdock's own facilities include three well-maintained floating dry docks, seven cranes, a 60-ton floating crane as well as fully equipped workshops for carrying out aspects of marine repair and maintenance. As Namdock is part of Namport, which oversees the port of Walvis Bay, this allows Namdock access to secure berthing space with the quayside depth of 12m.
Namdock is currently in the process of diversifying both in the maritime field and in the land-based heavy engineering arena. In terms of its marine services, the company has entered into the field of maintaining and repairing submersibles and remotely operated vehicles. In terms of land-based heavy engineering, Namdock, as Namibia's largest engineering company, has the facilities, design, project management and fabrication skills to tackle projects of any magnitude.
"To sum up, at Namdock, we are globally competitive while also proudly Namibian," states Nankole Muyoba. "Our company is a prized national asset, wholly-owned by all-Namibian entities. With this in mind, Namdock is sailing 'full steam ahead', and navigating a proactive voyage forward which will benefit not only our valued clients, our company and our staff, but also  the people of Walvis Bay, and Namibia as a whole," she concludes.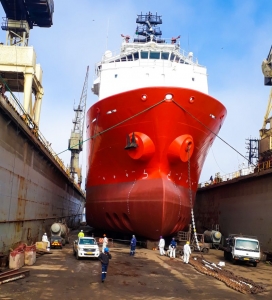 -Article contributed by Namdock
---