WBCG rounds off 2020
Posted: 18 Dec 2020
Undoubtedly, 2020 is characterised as an eventful year where most sectors of business were tested to their limits, with the worldwide outbreak of Covid-19 causing panic and widespread business disruptions. Although Covid-19 has exposed various gaps within the business environment, it compelled us to re-engineer and re-think the way we do business. It has also provided a much-needed platform from which Namibia can leapfrog into the 4th Industrial Revolution (4IR) and Logistics 4.0.
Despite the effects of Covid-19, one of the major highlights for this year is the positive growth in the Walvis Bay Corridor volumes, notably along the Walvis Bay-Ndola-Lubumbashi Development corridor and the Trans-Oranje corridor.  Business with the Zimbabwean market is also on an upward trajectory. This positive growth speaks to our commitment and continued efforts to put Namibia out there as the preferred trade route as well as the gateway for transport and logistics in the Southern African Development Community (SADC).
Another major highlight, is the growth and success of our Wellness Service. Through various collaborations and partnerships, we have been able to significantly grow this department through the acquisition of new mobile and fixed wellness clinics, offering primary health care related services to the mobile populations within the transport sector. In August 2020, we became the first Non-Government Organisations (NGO)  to collaborate with the Ministry of Health and Social Services (MoHSS) on Covid-19 testing, by availing medical personnel and mobile wellness clinics to support the national response team on Covid-19 testing in Windhoek and Walvis Bay. WBCG has further integrated Covid-19 screening into our mainstream workplace wellness service package. Thus far, we have offered Covid-19 screening services to well over 15,000 cross border truck drivers and 8000 local drivers.
Last month, we witnessed the exciting launch of the upgrade of the railway line between Walvis Bay and Kranzberg, one of the key national development projects to realizing our Logistics Hub ambitions by adding additional capacity for the railway mode of transport and in so doing enhancing the competitiveness of our corridor.
We successfully concluded the negotiations pertaining the opening of a WBCG European office based in Bremen, Germany. The said office will be commissioned in mid-2021. The next phase of Master Plan which includes (Japan International Cooperation Agency (JICA) technical cooperation as well as the GIZ/Bremenports technical support to Namport and TransNamib has kicked off. The Logistics Hub department played an integral role in the development of the standard operating procedures (SOPs) Covid-19 regulations for long haul transport. We further provided input and guidance on priority truck stops and quarantine facilities along the Walvis Bay Corridors.  WBCG helped with the development of the Corridor Trip Monitoring System (CTMS) to be piloted along the WBNLDC and Trans Kalahari Corridor.
As we reflect on the journey thus far, we have become innovative, more resilient and optimistic about the future. In view of the aforesaid, I would like to take this opportunity to thank the WBCG team. As a company, we are blessed to have hardworking and committed workforce, who are prepared to walk the extra mile in order for WBCG to deliver on its mandate.
We would like to thank you, our valued stakeholders, for your invaluable support during 2020. We wish you as well as your families a happy and prosperous festive season, and we look forward to a successful 2021 as we continue to engage and work with you.
Let us keep our corridors radiant, and our communities safe this festive season and beyond by continuing to comply to the Covid-19 safety regulations.
Yours in Trade Facilitation, Transportation and Logistics.
Mbahupu H. Tjivikua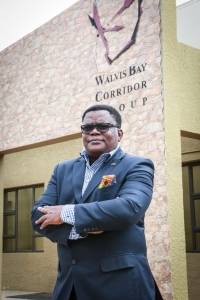 ---