Industry Introduction: Johan van Dyk: Country and Sales Manager for Maersk Namibia (PTY) LTD
Posted: 29 Jan 2021
Maersk Namibia recently appointed Mr. Johan van Dyk as its new Namibia Country and Sales Manager. Mr. van Dyk has close to eighteen years of experience in the logistics and transport industry, with thirteen of those spent working at the Maersk Group.
Mr. van Dyk started his career in 2003, with a company called Cross Country Container. In 2006, the company was bought over by the Grindrod Group, and Mr. van Dyk remained with the group until his departure in 2008. He then joined the Maersk Group as part of the intermodal team and has since been promoted to various increasingly responsible roles within the group. In November 2020, he was offered the exciting new role of Namibia Country and Sales Manager for Maersk Namibia (PTY) LTD.
Throughout his career Mr. van Dyk has enjoyed amazing achievements. However, winning the 2019 Maersk Sales Master Award for the African region tops his list.
Mr. van Dyk shares that he is settling in well and looks forward to adding value to our customers. Speaking about his new role, he shares, "I look forward to the challenges that comes with running a country office and managing different aspects of the business including people management and financial management and getting involved in new developments and projects within Namibia. I look forward to building new relationships with the various stakeholders and partnering with the Namibian customer base to continue to grow as the integrator of container logistics," says van Dyk.
According to Mr. van Dyk, the Covid-19 pandemic has brought a lot of uncertainty and volatility globally which impacted not only logistics and shipping but all industries worldwide which will remain with us for years to come. He explains that from a shipping perspective this led to massive changes across the industry and as Maersk we were able to quite quickly and proactively adapt to ensure we could continue to serve our customers whilst working from home," says van Dyk.
He further states, "from Maersk's perspective we began our transformation towards becoming the integrator of container logistics in 2017 which has allowed us during the pandemic to partner with our customers towards a a true end to end service."
Mr. van Dyk shares that he is excited about what the future holds and believes that challenges faced today open the doors to new opportunities tomorrow. "Although the current challenges and volatility faced in the shipping and logistics industry are a concern, Maersk has been able to adapt and I believe we can add value to our customers and overcome these concerns as we have done in the past," concluded Mr. van Dyk.
*Views/opinions expressed are Mr. van Dyk's and not that of the Maersk Group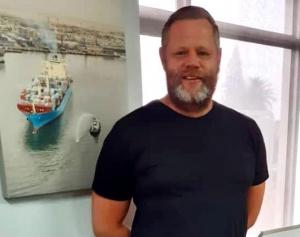 ---