WBCG engages DRC Stakeholders
Posted: 29 Jan 2021
"We are committed to supporting the logistics and transport community in the Democratic Republic of Congo (DRC), as well as increasing trade by ensuring the smooth flow of trade between Namibia and DRC," states the Walvis Bay Corridor Group's DRC Business Development Manager Mr. Jen Mbayo.
Mr. Mbayo was speaking at WBCG's Beyond Borders Information Session hosted in Lubumbashi, DRC in December 2020. This event is part of WBCG's continuous efforts to inform the stakeholders in DRC on the benefits of using the Walvis-Ndola-Lubumbashi Development Corridor (WBNLDC) and the Port of Walvis Bay. Since the establishment of the its business development office in Lubumbashi in 2012, the WBCG has positioned itself as crucial facilitator in the transport and logistics industry. DRC remains an important market as a volume based cargo source. Of great interest, is the Grand Katanga province, renowned for its huge mining developments. The area's copper production alone is estimated at more than one million metric tons annually which is all exported overseas.
WBNLDC has over the years grown significantly as an alternative trade route for the DRC. The corridor carries various commodities such as copper, sulphur, fuel, frozen products, machinery and equipment as well as consumables, destined for the global market via the Port of Walvis Bay.
The president of Association des Transporteurs Routiers Internationaux du Katanga, (ATRIK), in DRC, Mr. Lambert Tshisueka Mutondo spoke at the event, applauding WBCG on the great work and support it has rendered to the industry. The session was well attended by representatives from the business community and government institutions of the Haut-Katanga province, who were given the opportunity to network and engage one another. "New connections were established, which we are confident will lead to prosperous business relationships", says Mr Mbayo.
WBCG is committed to assisting and supporting the business community in DRC, so we call on the business community to engage our office in Lubumbashi to explore viable solutions via the port of Walvis Bay. Mr Mbayo can be contacted on his email bdm@wbcg.cd.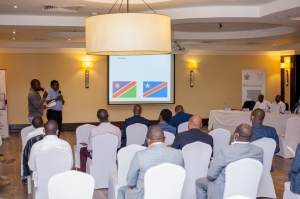 ---