First ever bagging plant at the Port of Walvis Bay
Posted: 29 Jan 2021
As the first of its kind in Namibia and a historic milestone for the port of Walvis Bay, Manica Group Namibia has recently invested in an advanced mobile hopper and bagging system. In a nutshell, the bagging plant allows for products to be shipped in bulk and bagged at the destination quayside.
 Shortly after the commissioning of the plant in December 2020, the group welcomed the first shipment of 20,000mt of sulphur from Ruwais, United Arab Emirates, shipped on the vessel, Egret Bulker. The discharge process started early on 13 January 2021. The sulphur was lifted with grabs from the ship holds and deposited into the bagging plant hoppers. Teamwork and fine coordination ensured that the sulphur was bagged, weighed, transported and stored successfully.
Walvis Bay Stevedoring managed the discharge and reached a stellar average of 1,500 bags per shift, whilst Rennies Transport handled all transport of the bags from the quayside to the Rennies Warehouse. Ocean Liner Services assisted with all ships' agency requirements and Woker Freight Services handled all clearance and customs formalities – true to Manica's seamless service offering.
The bagged sulphur is ultimately destined for the Zambia copper belt.
Philip Coetzee, Executive of Logistics Services for Manica Group said, "We are thrilled with this new chapter and service offering within the Group. The first shipment was indeed exciting, as it was on the heels of the set-up of the plant, as well as planning for inclement weather or any possible breakdowns or equipment concerns. Our team was well prepared and had many strategies in place to ensure a smooth operation."
"Manica would like to thank ICH for the trust in our capabilities and for making history with us. We have already started with additional upgrades on the current plant in the form of state-of-the-art grabs, which will arrive at the end of January 2021. We are looking into a multi-commodity service offering, especially in commodities such as fertilizer, wheat, etc. The possibilities are endless. We are confident that we will continue to build on and promote the services that Walvis Bay can offer to the corridor with these new machines." he added.
The Nectar Hopper and Bagging system is one of the world's most advanced mobile bagging systems and is designed to be completely self-contained. Although technically advanced, it is user friendly and easily operated. Each unit contains two bagging lines with built-in scales, strictly certified in accordance with Dutch Weights and Measures (N.M.I), enabling a guarantee of accurately weighed bags and detailed records of delivered and received cargo quantities.
The plant's superior and efficient performance translates to significant cost savings, which include less handling of bags, direct delivery, lower transportation and handling costs, to name a few. The equipment can bag free flowing bulk products at up to 140mt per hour. The mobile design allows movement of facility between berths or even different terminals.
Manica Group Namibia looks forward to increased productivity and ease of business for their customers and providing a one-of-a-kind service, whilst promoting Namibia as a premier bulk handling destination.
*Article Contributed by Manica Group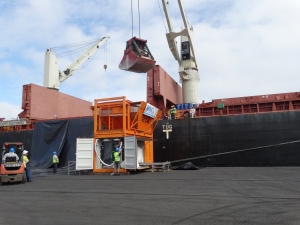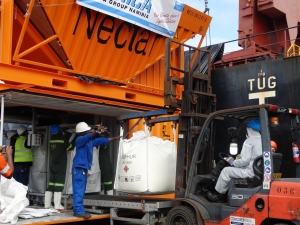 ---