Logistics Hub Overview
Posted: 29 Jan 2021
As Namibia advances towards becoming an important transit route for cargo into southern Africa, we continue to develop and transform ourselves into a logistics hub for the region.
Following a high-level survey, funded by Japan International Corporation Agency (JICA), Namibia crafted a new strategy for its economic trajectory, by introducing logistics as one of the four main economic priorities in its fourth National Development Plan (NDP4). Consequently, Namibia approached the Japanese Government to assist in developing the Logistics Hub Master Plan, in order to outline the future framework and outlook for the Logistics Hub.
The National Planning Commission (NPC) chairs the national steering committee, with WBCG as the executing agency. There are however several stakeholders from the public and private sector supporting the WBCG and NPC to ensure its implementation.  Key technical partners like Deutsche Gesellschaft für Internationale Zusammenarbeit (GIZ) and JICA, continue to provide technical and financial assistance to ensure the implementation of the various programmes being developed under Namibia's Logistics Master Plan.
As part of the implementation structure of Logistics Hub Master Plan, four working groups were established. These group focus on the development of the logistics hub center, strategic marketing, capacity development and integrated border management. WBCG continues to coordinate working group activities that in turn report to the steering committee and Cabinet Committee on Trade and Economic Development (CCTED) for political and policy endorsement.
WBCG further established Logistics Hub forums to engage the industry on specific thematic areas. These sessions enable continuous engagement between the public and private sectors on matters pertaining to the development of logistics in the country. "In the coming year, our focus remains on engaging industry leaders and the government, in ensuring adequate capacity from the private sector to deliver seamless logistics solutions and adequate resources from our government as the custodian of this project, to implement the Logistics Hub Master Plan timely," says Mr. Gilbert Boois WBCG's Projects Manager.
Whilst Namibia has made significant strides to position itself as a logistics hub for the SADC region, the world at large has been confronted with the Covid-19 pandemic that brought about unprecedented disruptions worldwide. Going forward, given the reality of the pandemic with impending new norms, the logistics industry needs to reinvent itself and become more ingenious in order to ensure sustained cargo volume growth for the foreseeable future.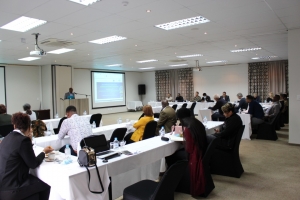 ---