A new decade for WBCG
Posted: 29 Jan 2021
Happy New Year to you all, our partners in transport and logistics. I trust you celebrated the beginning of 2021 in good spirits with your loved ones. Now that we are a few weeks into the new year, it is good to look ahead and be expectant of what the year has in store for us. But first, I would like to thank you for your continued support and dedication, especially during the challenging times in 2020.
Needless to say that 2021 started off on a good footing with the commencement of the African Continental Free Trade Area (AfCFTA) agreement on the 1st of January 2021, developing our  continental market for goods and services, with the free movement of people and capital. It furthermore paves the way for an expanded customs union, enabling the harmonisation and coordination of cross border trade across the continent.
Covid-19 brought about unprecedented disruptions to the continent's economy, and AfCFTA presents a major opportunity for the continent to boost intra-African trade, economic diversification, accelerate growth and value chain development as well as improve Africa's position in the global market place. The crucial role that the Walvis Bay Corridor Group (WBCG) plays in improving trade facilitation measures in the region, supports the AfCFTA agreement's efforts at reducing non-tariff barriers (NTBs) to trade and strengthen intra-African trade.
This year marks WBCG's transition into maturity, as a reputable corridor management institution, celebrating 21 years since the establishment of the company. WBCG has become one of the key facilitating bodies in the Namibian economy, driving the agenda of the transport and logistics sector. The Walvis Bay Corridors are widely recognised to offer compelling value propositions, and demonstrated significant growth not only in terms of volume, but also reduced transit times, removal of bottlenecks and improved corridor logistics. To this end, we now cover the consumer market across the SADC region with our corridor network, and we will continue to do so for years to come.
As we enter into this new decade we strive for continuous improvement and delivery on our mandate through strategic partnerships, building strong networks and developing good relationships.
Yours in Trade Facilitation, Transportation and Logistics.
Mbahupu H. Tjivikua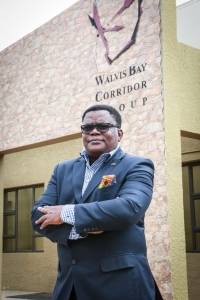 ---