A Trade & Economic Policy Analyst's view on AfCFTA
Posted: 26 Feb 2021
"If it ain't broke – don't fix it". Humans are creatures of habit, so when we do embrace change, we prefer it in small doses. Therefore, it comes as no surprise that in the midst of a pandemic and economic stress, for the average person on the continent, the commencement of trade under the African Continental Free Trade Agreement (AfCFTA)at the beginning of this year was a non-event.
The announcement of the formation of the largest free trade area (by number countries) since the WTO has been met with mixed reactions ranging from hopeful to sceptical. The hopefuls have tried to win over the sceptics by recounting its numerous advantages:
larger market – 55 countries, 1.3 billion consumers
growing middle class
combined GDP of $3.4 trillion
alleviation of extreme poverty for over 30 million people
easing or removal of tariff and non-tariff barriers
liberalised movement
export diversification
stronger bargaining power, etc.
Sounds great, but those in doubt are concerned that it all seems theoretical and too far into the future. While these are valid concerns, it might be worth exploring the incentives to be part of the AfCFTA from another viewpoint – the It's a Wonderful Life perspective.
In the 1946 Christmas classic, the main character George Bailey decides to take his own life but after his guardian angel intervenes George's life was saved. The angel convinced George, not by outlining everything that was great in life but by showing him how his loved ones and community would have been impacted, had he never been born.
Similarly, what if there was no AfCFTA?
Today, less than 20% of Africa's exports are destined for countries on the continent compared to Europe (60%+), Asia (50%+) and America (50%+). Exports to the rest of the world on which many an African economy depends, tend to be commodities. For decades and across the continent, export diversification, employment creation through trade and increased value addition have remained an unfulfilled potential not by coincidence but by design.
During the late 19th century global superpowers, divided the continent so that each one would have:
sources of raw materials,
that would be manufactured (value addition & employment creation) in Europe and
exported to consumers around the world (export diversification).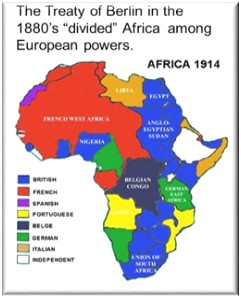 The economic benefits of trade elude countries on the continent because the structure of trade as designed during The Scramble, still exists. To this day, most African countries maintain their strongest trade alliances with former super powers, further entrenching the value chains that make Africa an extraction point for raw materials.
As the population grows so too does the demand for more products, more jobs, improved physical infrastructure, and just a better standard of living in general. It's becoming increasingly apparent that the very structure of African economies has to change urgently in order to realise these noble objectives.
Basically, without the AfCFTA the design of Africa's trade as per the Berlin conference will remain intact and its purpose will continue to be fulfilled – extract here, add value elsewhere, sell back here. A system which does not serve our future economic aspirations.
The AfCFTA is a necessary change. A blueprint, if you will, for the new architects of our continent's future to unleash Africa's potential and promise. Without it, this continent will remain trapped at the lower end of value chains. Losing out on the export diversification, industrialisation and other trade benefits needed to secure socio-political stability and our economic prosperity.
Those who came before us did not know whether they would live to enjoy the freedom that they were fighting for. Therefore, we cannot be guided purely by decisions that a certain to bear fruit in our lifetime.
Ours are the shoulders on which the future generations of Africa will stand.
*Article Contributed – Author: Claudia Boamah Capelao | Trade and Economic Policy Analyst at the Namibia Trade Forum
---