Pandemic cannot stop Namport
Posted: 26 Feb 2021
THE Namibian Ports Authority (Namport) continues being relevant despite the Covid-19 pandemic, as it achieved another milestone last month when it handled 20 000 tonnes of sulphur for the Zambian market.
The bagging operation took place at the harbour as a joint operation by Namport and Manica Group Namibia. The operation required offloading to take place while the vessel was alongside with the sulphur being fed into hoppers and then bagged daily. The commodity was transported in trucks, which would carry a return load of copper from Zambia to the port to reduce freight costs and optimise the economies of scale. The copper will be exported to China, Germany, and Russia, among others.
Namport's commercial executive Immanuel !Hanabeb said these activities affirm the strategic positioning of Namport as a connecting port not only for landlocked countries in Africa but also for countries beyond the continent."The volume growth is expected to be supported by the additional sulphur imports in bulk of 130 000 tonnes per year allocated for the copper mines in Zambia and Democratic Republic of Congo. This will provide return loads of copper from Zambia and DRC that will further increase copper exports from 18 000 tonnes to 40 000 tonnes per month," he said. One of the big challenges though, !Hanabeb said, is the shortage of empty containers.
"For the 2020/21 year, the shipping market is experiencing shortage of empty containers globally and southern African ports have not been spared. This has hamstrung exports and imports. We are working with all relevant stakeholders to improve the supply of containers," he said.
Regardless of the pandemic, Namport remained operational while staff adhered to Covid-19 health protocols. Namport communications manager Tana Pesat told The Namibian that Covid ironically was a blessing in disguise for Namport as competitor ports (especially in South Africa) were forced to close temporarily due to a rise in infections among their workforce and ships which were set to dock were forced to use alternative Pandemic cannot stop Namport ports – such as Walvis Bay.
Figures presented to the newspaper showed that the total container throughput capacity overall increased by 10% at Lüderitz and Walvis bay – to 135 194 containers in 2020/21 (during the first 10 months of the financial year) compared to 128 779 handled the year before. The two ports also maintained operational control and capabilities by handling 5 066 203 tonnes of cargo during the financial period 2020/21 compared to 4 346 153 tonnes the year before. This shows an increase of nearly 17% in cargo handling, and according to Pesat, this was due to increased commodities being imported and exported. Lüderitz has reflected the largest portion of growth by increasing activity, recording a total of 360 000 tonnes of cargo per annum. Namport has seen a decrease in Roll on-Roll off (RoRo) car carrier vessels in 2020/21 compared to the previous year.
"The presence of these vessels indicates that the market for second-hand vehicles is still favourable in SADC. With Namibia at the very strategic location that it is, the country is given a favourable advantage to be a connecting point to neighbouring land-locked countries such as Zambia, Zimbabwe, Botswana and DRC who make frequent use of the seamless offerings of Namport," said Pesat.
Covid-19 had a major impact on passenger liner traffic. According to Pesat, during 2019/20, 18 passenger liners docked at Walvis Bay and eight at Lüderitz. This success of frequent passenger liners during the high season between January and April at Namibian ports was due to the upgrading of infrastructure facilities and therefore attracted bigger passenger liners to both ports
*Article Contributed by The Namibian (Spotlight on Transport and Logistics Supplement) – Author: Adam Hartman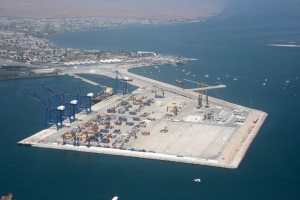 ---