WBCG Wellness Service committed to the health and wellness within the Transport and Logistics Sector
Posted: 26 Feb 2021
The WBCG continues to contribute significantly to the wellness of mobile populations in the transport and logistics industry, through the implementation of comprehensive health and wellness programmes along the Walvis Bay Corridors. With this said, the WBCG's Wellness Service is excited to announce that it will soon be expanding its roadside wellness clinics to the Omusati and //Karas Regions respectively in 2021.
For WBCG, taking its wellness and health services closer to the people and making it accessible to the transport and logistics industry as well as the vulnerable communities they interact with, is one of its priorities. The addition of these two new clinics will bring the number of WBCG's Roadside wellness clinics to a total of eight, creating a comprehensive footprint on all major transport corridors in Namibia.
"We are constantly looking for opportunities to expand our network of roadside wellness clinics across the country. This model is quick to set up and it provides practical and seamless health solutions to our vulnerable communities. Furthermore, these new clinics will enable us to increase our reach and boost the number of people that are accessing the much needed health services in all our regions," said WBCG's Wellness Service Manager, Mr. Edward Shivute.
He further added, "In order to reduce HIV infections and mitigate its impact on mobile populations and affected communities, we are constantly venturing towards improving the access to services for key populations such as female sex workers, adolescent girls and young women and mobile populations specifically long-distance truck drivers and the surrounding border communities in Namibia." These are the groups of people that will help the country reach epidemic control, hence the urgent need to target them. The WBCG services are however still available to other target groups as per the National Strategic Framework on HIV/AIDS Response in Namibia that is spearheaded by the Ministry of Health and Social Services (MoHSS).
Meanwhile, the WBCG Wellness Service was launched in 2003, as an initiative for the transport and logistics industry to create HIV/AIDS and STI awareness among long-distance truck drivers, sex workers and cross-border communities. To date, the Wellness Services has received vast recognition and has expanded from only offering basic HIV/AIDS and STI's services to providing comprehensive as well as cost effective health and wellness services. This transformation came as a result of demand driven campaigns from both the public and private sector in Namibia. WBCG's Wellness Service project also goes towards supporting the MoHSS in assisting to mitigate the burden on the public health sector.
Over the years, the Wellness Service continued to increase its services to members in the transport and logistics sector through various interventions such as HIV counselling and testing, peer education training, development of sustainable public private partnership models, service delivery analysis study, Monitoring & Evaluation training and support visits to evaluate workplace wellness programmes. As part of our differentiated service delivery model, the WBCG also uses mobile clinic vans to reach out to employees within various corporate and public institutions. Other services include HIV/AIDS awareness sessions with transport workers as well as management trainings to address and secure leadership commitment on health and wellness interventions in the workplace. The Wellness Service has further incorporated Covid-19 screening, and referral to the MoHSS's COVID-19 testing facilities, in its wellness services offered.
Providing high quality services and growing our footprint remains our priority whilst working on keeping HIV positivity rates within the transport and logistics sector below 10%. The WBCG, along with its members, contributed considerably to keeping the transmission rates of Covid-19 within the transport and logistics sector below 10%, remarked Mr. Shivute.
In collaboration with the MoHSS and the Namibia Institute of Pathology, the WBCG will soon be rolling out Covid-19 testing at all its clinics and strategic cross border points.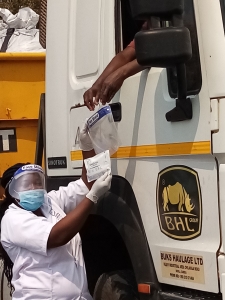 ---