Namibia as a preferred trade route, gains traction
Posted: 1 Apr 2021
The month of March saw the realisation of a major milestone for the transport and logistics industry. We are delighted to share that the Namibian parliament recently ratified the Walvis Bay-Ndola-Lubumbashi Development Corridor (WBNLDC) Tripartite agreement. The said agreement is aimed at fostering a strong and competitive transport and logistics industry, which brings us closer to our vision of seeing Namibia become the preferred trade route in Southern Africa. It paves the way for an expanded customs union, enabling the harmonisation and coordination of cross border trade in the region.
Another wonderful progression for the industry, is the launch of the second State of Logistics Report. Namibia has positioned logistics at the forefront of its economic development agenda, as enshrined in the National Development Plan as well as the newly released Harambee Prosperity Plan 2. Improved logistics is not merely about good transport infrastructure. It is an integration of systems and excellent customer service as well. These are important components, that are key to us realising an efficient world class logistics hub for the region.
Our competitiveness in the global space will also be determined by our responsiveness to the Fourth Industrial Revolution. Are we ready as a nation? Only the fittest will survive, therefore we need to adapt or die, the choice is yours. My contention is that in order for us to embrace business unusual. Most of our businesses now need to start operating on a 24/7-hour basis.  We need to embrace a new culture. We need to open up our borders and the relevant agencies to provide services on a 24-hour basis. We need to beef up our service levels and start playing in the big leagues of the Singapore, China and Dubai amongst others. A serious paradigm shift is required in our sector.
It is not only the industry moving forward. The WBCG is constantly transforming itself and the services it provides to the industry. This is done to ensure we are able to maintain our mandate of ensuring the cargo volumes grow on our corridors. The company's Board and Management has gathered to review our performance and craft a new 5-year strategic plan. As the Walvis Bay Corridor Group, our role as the facilitating body to transport-related matters, we are key to the development of the Namibian Logistics Hub.  The envisioned hub is not only to the benefit of Namibia but to the hinterland and the world economy at large. Our neighbouring countries need us more than ever before.
We endeavour to keep pushing and working hard to see this vision become a reality.
Yours in Trade Facilitation, Transportation and Logistics.
Mbahupu H. Tjivikua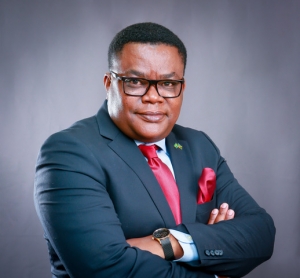 ---