NAMRA appoints Mr. Willbroad Sihela Poniso as Director for Border Control and Operational Compliance
Posted: 30 Apr 2021
The WBCG would like to congratulate Mr. Willbroad Sihela Poniso on his appointment as the new Director for Border Control and Operational Compliance, at the Namibia Revenue Agency (NamRA) with effect from tomorrow, 1 May 2021. He holds Master's degrees in Customs Administration and Business Administration (MBA) as well as an undergraduate qualifications in Public Management.
Mr. Poniso has a background spanning over thirty years in customs and excise administration, with an extensive track record of solving operational problems and improving service delivery. He is currently employed at the Ministry of Finance as the Customs and Excise Deputy Director for the North Eastern Region. In this portfolio, he is mainly responsible for the efficient and effective implementation of Government policies in the Division (Kavango East, West, and Zambezi Regions), the establishment of internal control as well as provision of legal and procedural advice to the Commissioner, and participating in interagency collaborations engagements.
Throughout his career Mr. Poniso received many accolades, amongst others, recognition by the World Customs Organization (WCO) for meritorious service to the Namibian Customs Administration, and recognition by the Namibian government for exceptional input and support towards the successful accomplishment of the customs public awareness campaign.
Mr. Poniso is a key stakeholder in resolving various cross border and trade facilitation challenges along the Walvis Bay Ndola Lumbumbashi Development Corridor (WBNLDC) and has contributed significantly towards the WBNLDC programmes in the Zambezi region.
The WBCG looks forward to continuing our work with him, in his new role and we are confident that with his expertise, we will further strengthen Namibia's position as the preferred gateway into the SADC region and beyond.
The newly launched NamRA, replaced the Customs and Excise as well as the Inland Revenue Departments in the Ministry of Finance. It will operate as a semi-autonomous body responsible for revenue collection, the administration of tax, customs and excise regulations, as well as the efficient provision of services to taxpayers. NamRA's objective is to improve coordination between customs units, including the coordination between customs and other border regulatory agencies at a national and international level.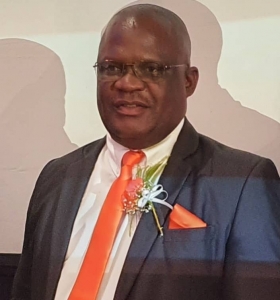 ---