WBNLDC takes the lion share of Corridor volumes
Posted: 31 May 2021
The Walvis Bay-Ndola-Lubumbashi Development Corridor (WBNLDC) continues to grow significantly as an alternative trade route for the SADC region. This corridor remains the busiest in Namibia, as it continues to attract and carry the largest volumes of transit cargo between the port of Walvis Bay and the hinterland countries such as Zambia, Democratic Republic of Congo (DRC), Zimbabwe and Malawi.
According to statistics shared by the Roads Authority Principal Transport Inspector in the Zambezi Region, Ms Lynnette Malipa, the number of heavy vehicles weighed at the Katima Mulilo Weighbridge has grown exponentially over the past 15 years, with an average of approximately 2000 heavy vehicles per month passing through the weighbridge last year.
"In 2005 when the weighbridge started operations, 786 heavy vehicles were weighed at Katima Mulilo Weighbridge and the number kept on increasing every year and in 2020, 24731 heavy vehicles were weighed. These figures exclude vehicles that are skipping the weighbridge and those that pass when the weighbridge is closed. Katima Mulilo Weighbridge operates on a 16-hour shift, that starts from 06:00 am to 22:00 pm," Ms Malipa shared.
This exponential growth in cargo volumes is indicative that the WBCG has made tremendous strides in these markets, and it is imperative that the WBCG increases its marketing and business development activities in order to sustain this growth.
The WBNLDC offers the fastest route between the port of Walvis Bay and the vital transport and logistics hubs of Zambia, DRC and Zimbabwe. It further connects into Malawi and Tanzania, via Zambia. The corridor is perfectly positioned to service the two-way trade between the SADC region and Europe, North and South America and emerging markets in the East.
The WBCG is committed towards supporting the transport and logistics community as well as increasing trade by facilitating the seamless movement of goods and people on all the Walvis Bay Corridors.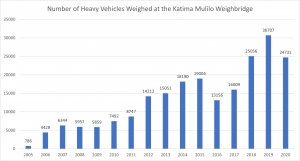 ---