'Thank a Trucker' campaign officially launched in the Zambezi Region
Posted: 31 May 2021
"We took a bold decision to support the trucking community who have kept the economic wheel rolling during this crucial time," stated the National Road Safety Council (NRSC) Chairman Mr. Eliphas !Owos-oab.
Mr. !Owos-oab was speaking at the launch of the 'Thank a Trucker' campaign on the 20th of May 2021 at the Katima Mulilo Weighbridge. The road safety campaign organised by the Walvis Bay Corridor Group (WBCG) and the Trans Kalahari Corridor Secretariat (TKCS), is sponsored by the NRSC. The campaign is aimed at raising awareness of road safety amongst truckers, as well as their importance of keeping the economy moving. In addition, the campaign aims to appreciate the truck drivers as frontline heroes during the pandemic. The event was launched by His Worship the Mayor of Katima Mulilo Lister Shamalaza on behalf of the Governor of the Zambezi Region Honourable Alfea Sampofu.
In a speech read on his behalf, Hon. Sampofu referred to the truck drivers as corridor heroes and emphasised that they are the backbone of the supply chain, who make it possible for the community to receive essential goods. "I appeal to our community members to be kind and respect our Corridor Hero's as well as refrain from throwing stones at the trucks moving on our corridors," said the Governor.
The WBCG and TKCS team concluded the launch event by handing out tokens of appreciation to the truck drivers, at the Katima Mulilo roadblock. The event officially kicks off a nationwide campaign, to be rolled out on all the Walvis Bay Corridors.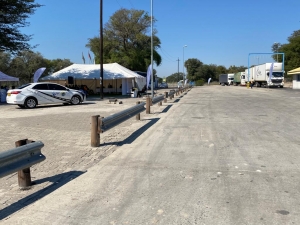 ---