Namibia Logistics Hub project continues to gain traction
Posted: 31 May 2021
The month of May 2021 has reignited the national interest in the Namibia Logistics Hub initiative, as WBCG's Logistics Hub department is forging ahead and taking important steps to coordinate the implementation of the programmes and projects detailed in Namibia's Logistics Hub Master Plan.
Most recently, WBCG joined industry SOEs to present the progress on opportunities for improvement on the implementation of the Logistics Hub Master Plan to the Joint Session of the Cabinet Committee on Trade and Economic Development and the Cabinet Committee on Treasury. We similarly see increased interest from the local authorities, on how their Municipalities or Town Councils can collaborate with the WBCG to realise the Logistics Hub goals. The Otavi, Grootfontein, Kombat and Tsumeb local authorities, as a case in point, recently established the Triangle Economic Forum where WBCG has been incorporated as a strategic partner.
The Logistics Hub project aims to deepen regional economic integration and put in place measures to improve corridor competitiveness as well as enhance closer trade and investment linkages. It is with a sense of great pride that the WBCG continues to play a crucial role in Namibia's regional transport and corridor development. However, the success of the Logistics Hub Project hinges on a well-coordinated and synergised approach to the implementation of the Logistics Master Plan's programmes and projects.
On a celebratory note, the WBCG and Trans Kalahari Corridor Secretariat (TKCS) officially launched the 'Thank a Trucker' campaign this month, owing to the generous sponsorship of the National Road Safety Council. We continue to thank all the truckers, our corridor heroes, for risking their lives to ensure that we have food and other essentials on our shelves.
Yours in Trade Facilitation, Transportation and Logistics.
Mbahupu H. Tjivikua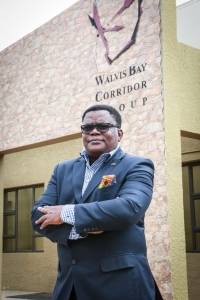 ---