TSODILO RESOURCES JOINS THE WALVIS BAY CORRIDOR GROUP
Posted: 1 Jul 2021
The Walvis Bay Corridor Group (WBCG) is pleased to announce that we welcome Tsodilo Resources Limited as our latest member. Tsodilo Resources Limited is an international diamond and metals exploration company engaged in the search for economic diamond, metal deposits and industrial stone at its Bosoto (Pty) Limited ("Bosoto"), Gcwihaba Resources (Pty) Limited ("Gcwihaba") and Newdico (Pty) Ltd. ("Newdico) projects in Botswana.
The Company has a 100% stake in Bosoto (Pty) Ltd. which holds the BK16 kimberlite project in the Orapa Kimberlite Field (OKF) in Botswana and the PL216/2017 diamond prospection license also in the OKF. The Company has a 100% stake in its Gcwihaba project area consisting of seven metal (base, precious, platinum group, and rare earth) prospecting licenses all located in the North-West district of Botswana. The Company has a 100% interest in its Newdico industrial stone project located in Botswana's Central District. Tsodilo manages the exploration of the Newdico, Gcwihaba, and Bosoto projects. Overall supervision of the Company's exploration program is the responsibility of Dr. Alistair Jeffcoate, Project Manager and Chief Geologist of the Company and a "qualified person" as such term is defined in National Instrument 43-101.
Tsodilo Resources joins the corridor group to explore potential opportunities for its operations. The company becomes the first mining outfit to join the Corridor Group's associated membership programme. The programme aims to grow the organisation's membership base in order to strengthen its standing as a Public-Private-Partnership. The WBCG serves as the marketing agency on behalf of all its private and public members to promote the Port of Walvis Bay through the Walvis Bay Corridors as an entry/exit point to and from the SADC region. "Facilitating trade and business connections is a crucial activity to ensure we see the growth of cargo volumes on our corridors," says WBCG's Manager for Communications and Marketing, Ms. Cindy-Lu Hasheela.
Of specific importance to Tsodilo is the Walvis Bay – Ndola – Lumumbashi Development Corridor (WBNLDC) which connects Namibia – Zambia – Democratic Republic of Congo (DRC) with links to Angola – Zimbabwe, Malawi & Tanzania. WBNLDC provides the shortest route between the Namibian west coast Ports of Lüderitz and Walvis Bay and the vital transport hubs of Livingstone, Lusaka and Ndola in Zambia, Lubumbashi (southern DRC), and Zimbabwe. This corridor is perfectly positioned to service the two-way trade between the SADC region and Europe, North and South America and emerging markets in the East, see Figure 1 for a regional context to this important transport corridor.
The proposed Trans-Zambezi rail extension between Grootfontein and Katima Mulilo is significant to Tsodilo as the extension is planned to pass through Divundu in Namibia which is located approximately 35 kilometers from their license location in Northern Botswana. The feasibility study is expected to be completed by the end of 2021 and its results will be considered in their Preliminary Economic Assessment (PEA). "The proposed rail extension is an important development for Tsodilo as it opens up a proximate rail transportation system for the delivery of the projects potential iron products, such as iron concentrate, iron pellets, potential direct reduced iron (DRI) products, and Ferrosilicone (FeSi) products, throughout central, eastern and southern Africa as well as international markets" commented the Company's Chairman and CEO, James M. Bruchs.
"We are excited to collaborate with Tsodilo Resources to see increased business opportunities for our transport sector", says Ms. Hasheela.
Issued By:
Cindy-Lu Hasheela
Manager: Marketing & Communications | Walvis Bay Corridor Group
T.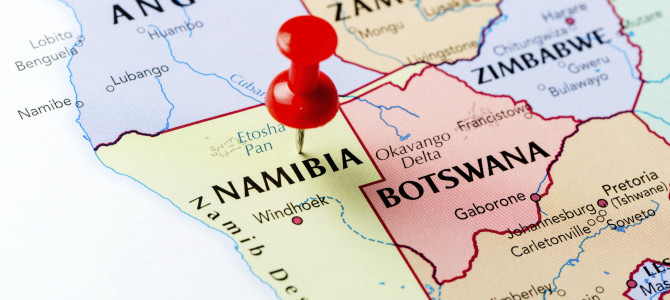 +264 61 251669 | C. +264 81 242 0689 | E. cindy@wbcg.com.na | W. www.wbcg.com.na
For more information about Tsodilo Resources: www.tsodiloresources.com
---