Corridor Trip Monitoring System to be piloted on the TKC and WBNLDC
Posted: 4 Aug 2021
The Ministry of Works and Transport in collaboration with the SADC-TTTFP, the Trans Kalahari Corridor Secretariat (TKCS) and WBCG on 29 July 2021, virtually engaged with stakeholders on the implementation of the Corridor Trip Monitoring System (CTMS) to be piloted on the Trans Kalahari Corridor and the Walvis Bay-Ndola-Lubumbashi Development Corridor (WBNLDC).
The CTMS seeks to facilitate the continuation of cross-border trade of goods and services during the ongoing crises occasioned by the coronavirus. The system will further facilitate and ensure that cross border transport and transit is performed by healthy drivers who can be constantly monitored, and tracked to reduce the spread of Covid-19, The implementation of the CTMS will also reduce extended travel and transit times during the pandemic.
Some of the objectives of the CTMS is amongst other, to limit the spread of Covid-19 through cross-border transport, facilitate interstate flow of goods and services, institute safe measures to allow movement of passengers across borders and to promote safe trade and transport facilitation for economic growth and poverty alleviation in the SADC region.
In the medium and long term, the objectives are to:
Integrate the CTMS with Customs systems in the region and subsequently with the National and Regional Single Window System;
Integration with the TRIPS to validate operator, vehicle and driver information; and
Regional Corridor Performance Monitoring System (CPMS) as a Smart Corridor Management System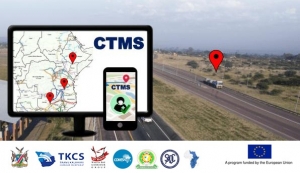 *Article contributed by TKCS
---