Transport Sector sponsorship to aid WBCG's support towards Truckers 
Posted: 22 Nov 2021
In September 2021, the WBCG's Wellness Service received six (6) Oxygen Concentrators from Engen Namibia and emergency medical kits for the truckers from National United Security and Fire. These items will be used to support both the WBCG front line health workers and truck drivers who are in need of medical services.
Speaking at the handover event, the Managing Director of Engen Namibia, Mr. Christian Li applauded the WBCG for their great initiatives and efforts in providing wellness services to the frontline truck drivers. "Engen Namibia would firstly like to commend the Walvis Bay Corridor Group and their Wellness Service for their efforts in providing the much-needed medical services to the community and mostly to the frontline truck drivers, who risk their health to ensure that we receive essential goods but also to export our products, more so in these unprecedented challenging times."
Sharing his gratitude towards Engen Namibia and National United Security and Fire, WBCG's Chief Executive Officer, Mr. Mbahupu Tjivikua, explained that the sponsorships from industry assists WBCG to not only facilitate trade along the corridors, but to continue to significantly contribute to the wellness of our Corridor Heroes, the truck drivers.
The WBCG through its wellness programme operates roadside fixed and mobile wellness clinics in Zambezi, Erongo, Ohangwena, Omaheke, Otjozondjupa and Khomas regions respectively to support the efforts of the Ministry of Health and Social Services as per the WBCG and Ministry of Health and Social Service (MoHSS) agreement. These clinics are supported by various development partners such as SADC, USAID, GIZ Global Fund and the Private Sector. Since the outbreak of the Covid-19 pandemic in Namibia on 13 March 2020, the WBCG has been working in collaboration with the MoHSS and the Transport and Logistics Industry to find amicable solutions in addressing the Covid-19 related challenges associated with the movement of cargo in and across the borders of Namibia.
The WBCG is grateful to MoHSS, RA, Engen, GIZ , National United Security and Fire and all our stakeholders for their continuous support, which will contribute towards WBCG's commitment to support the wellbeing of vulnerable communities in the Transport and Logistics sector.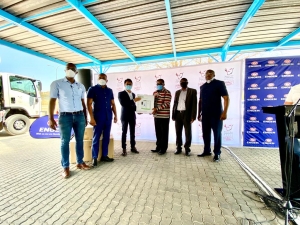 ---