Transport Sector launch Covid-19 Vaccination Drive-Thru Campaign
Posted: 22 Nov 2021
The Walvis Bay Corridor Group (WBCG) Wellness Service recently partnered with the Ministry of Health and Social Services (MoHSS) and Roads Authorit y to ensure that our corridor heroes, the truck drivers, have access to Covid-19 vaccines.
A drive-thru vaccination centre for truck drivers at the Roads Authority Weighbridge in Brakwater, Windhoek was officially launched in September 2021. The centre can administer up to 50 vaccines a day at full capacity.
According to WBCG's Wellness Service Project Manager, Mr. Edward Shivute, the drive-thru campaign aims to primarily serve the long-distance truck drivers who would normally find it difficult to get vaccinated at the current public vaccination points, as most are located outside their normal routes. This vaccination point provides the much-needed easy access to Covid-19 vaccines for long distance truck drivers. The WBCG's main aim is to support the MoHSS's national Covid-19 vaccination response, in order to encourage more people to get vaccinated and achieve herd immunity.
Thus far, a total of 362 people have been vaccinated at the Roads Authority Weighbridge of which 225 are long distance truck drivers. The vaccines that are being administered at the drive-through centre are AstraZeneca, Sinopharm and Johnson & Johnson (J&J), with J&J been the preferred vaccine amongst truckers due to the fact that only a single dose is administered.
The opening of this vaccination centre would not have been possible without the support from strategic partners such as MoHSS, Deutsche Gesellschaft für Internationale Zusammenarbeit GmbH (GIZ), ENGEN and Roads Authority (RA). In his remarks at the launch event, Mr. Tomas Ukola, Regional Health Director (MoHSS), Khomas Region empathised the importance of strategic partnerships and alliance in the fight against Covid-19. He further elaborated on the current strategic partnership between MoHSS and WBCG through which the Ministry can have direct access to the transport and logistics industry.
The WBCG Wellness Service has thus far rolled out Covid-19 vaccination campaigns at its clinics in Windhoek, Gobabis, Otjiwarongo, Katima Mulilo and Oshikango.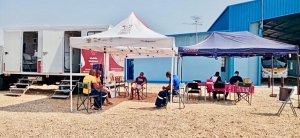 ---