WBCG hosts Logistics Hub Forums in Walvis Bay and Keetmanshoop
Posted: 22 Nov 2021
"Our focus remains on engaging industry leaders and the government, in ensuring adequate capacity from the private sector to deliver seamless logistics solutions and sufficient resources from our government as the custodian of this project, to implement the Logistics Hub Master Plan timely," says Mr. Gilbert Boois WBCG's Projects Manager.
Mr. Boois was speaking at one of WBCG's Logistics Hub Forums hosted in Walvis Bay and Keetmanshoop in the last three months. The forums are part of WBCG's continuous efforts to engage and inform relevant stakeholders on the status of the projects and programmes under the Logistics Hub initiative. This is critical to ensuring much needed collaboration among key stakeholders responsible for implementing the said projects and programmes, which will eventually lead towards the country's vision of transforming Namibia into an International Logistics Hub. In addition, these forums enable continuous engagement between the public and private sectors on matters pertaining to the development of logistics in the country. In order to maintain to the momentum these forums will continue on a quarterly basis.
At the Logistics Hub Forums, themed "Where are we now?", the WBCG presented a detailed overview on the current status of the implementation strategies and plans outlined in Namibia's Logistics Hub Master Plan. The group also gave an overview on areas to be attended to in future such as capacity building, strategic marketing, integrated border infrastructure, green logistics, rail and aviation, amongst others.
Several industry projects, such as upgrades to key road and rail infrastructure are at varying stages of progression, which shows the Namibian Government's commitment to developing the sector to better position itself as a viable transport link to the region. In addition to the critical projects outlined in the Logistics Hub Master Plan, Namibia also prioritised supplementary projects in the road, rail and aviation subsectors, which are crucial links to neighbouring countries.
The Logistics Hub Project aims to deepen regional economic integration and put in place measures to improve competitiveness and enhance closer trade and investment linkages. It's with great pride that the WBCG continues to play a central role in Namibia's regional transport and corridor development.
"The success of the Logistics Hub Project hinges on a coordinated and synergised implementation of the Logistics Master Plan programmes and projects," states Mr. Boois.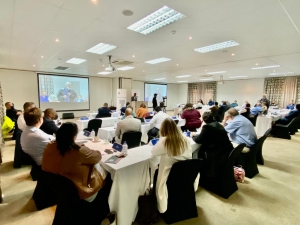 ---