Truckers hailed as Corridor Heroes
Posted: 22 Nov 2021
In May 2021, the Walvis Bay Corridor Group (WBCG) and the Trans Kalahari Corridor Secretariat (TKCS) launched the 'Thank a Trucker' campaign nationwide. This campaign which is sponsored by the National Road Safety Council (NRSC), is aimed at appreciating trucker drivers as frontline heroes during the pandemic as well as raising awareness of road safety amongst truckers and their importance of keeping the economy moving.
During the past four months, the two corridor institutions engaged over 300 truck drivers at designated roadblocks in Katima Mulilo, Rundu, Gobabis, Swakopmund, Oshikango and Keetmanshoop. The activities at the said roadblocks were held in conjunction with the Ministry of Works and Transport, Regional and Local Authorities, the Namibian Police, Roads Authority, Engen, Namport, MVA and RFA. Apart from handing out hygiene care hampers, truckers were interviewed to gauge their experience on the roads and at border crossings. This was done with the view to identify areas of improvements and facilitate a seamless journey for the truckers along the Walvis Bay Corridors. Furthermore, the campaign aims to denounce the stigma against truckers as carriers of Covid-19.
"Truck drivers continue to provide essential services to the economy during the Covid-19 pandemic by importing food, medicine and oxygen from South Africa and other neighbouring countries. They risk their lives to ensure that our shops and pharmacies are adequately stocked while the rest of the nation was under lockdown, therefore, we want to show them our appreciation as our Corridor Heroes," said Ms. Cindy-Lu Hasheela, WBCG's Marketing and Communication Manager.
During the handover of the hygiene care hampers, it was evident that the truck drivers were overwhelmed with this gesture of appreciation. "I am very grateful towards this gesture that comes as a surprise, since we have never been recognised and appreciated as long-distance truck drivers in this country," said Mr. Vincent Nepanda, a long-distance truck driver.
WBCG plans to continue with this initiative, as this contributes towards road safety along our corridors which will in turn realise the national goal of Namibia becoming a Logistics Hub for the SADC Region.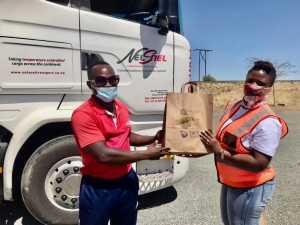 ---