WBCG in 2022
Posted: 29 Mar 2022
Compliments of the New Year to you all, our partners in transport and logistics. I hope you celebrated the beginning of the year in good spirits with your loved ones. First, I want to take a moment to thank you all for your contributions, continued support and dedication in 2021.
2021 was another year of growing our Walvis Bay Corridors as the preferred trade routes for international markets to and from Southern Africa. It was a year in which we strengthened our relationships, established ourselves as a key facilitating body as well as grew our network by welcoming new strategic partnerships and members. This growth is testament to the competitive offering via our Namibian Ports pertaining to efficiencies, security, safety and reduced time along our Corridors.
Last year we saw positive growth in cargo handled at the Namibian Ports, with various commodities moved via the Port of Walvis Bay as sulphur, copper, vehicles, frozen products, amongst others, and a significant increase in manganese exports via the Port of Lüderitz.
The Walvis Bay Corridors are widely recognised to offer compelling value propositions, and demonstrated significant growth not only in terms of volumes, but also reduced transit times, removal of bottlenecks and improved corridor logistics. To this end, we now cover the consumer market across the SADC region with our corridor network.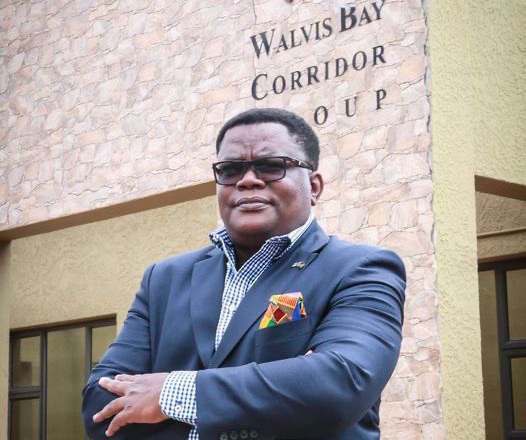 Our Wellness Service remains one of our flagship projects. Through various collaborations and partnerships, we have been able to develop this department into a service centre for the mobile population in the transport and logistics sector as well as the broader communities along the Walvis Bay Corridors.
2022 is set to be another exciting year for us, as we strive to work with all our stakeholders through strategic partnerships, engagements and activities, we remain committed to deliver high quality service to all our stakeholder and the Namibian nation at large as we continuously adapt to a changing environment, to ensure that we build a cohesive vision for the future.
Yours in Trade Facilitation, Transportation and Logistics.
Mbahupu H. Tjivikua
---